I hope you enjoy reading the blog post.
If you want my team to just do your online dating for you, click here.
Thursday App Review 2023 [Cities, Verification, Cost & More]
Wondering if a dating app that only works once a week is legit? This Thursday app review has all the information you're looking for, including how much it costs, where it's available and how it works!
In this Thursday review, you'll get a full rundown on:
Thursday Dating App Cities
Launched in May of 2021, Thursday app locations currently include New York City and London.
It is scheduled for release soon in 20 other major cities across Europe and the US including Manchester, Birmingham, Cardiff, Liverpool, Glasgow, Paris, Berlin and Amsterdam.
A Big Twist On Online Dating
Co-founders George Rawlings and Matt McNeill Love firmly believe "there's more to life than dating apps", which is what inspired them to create one that only works on Thursdays.
So why that day in particular?
As it turns out, this isn't the Thursday dating app founders first foray into app creation. In fact, in a previous iteration Thursday was the Honeypot dating app, and it was primarily popular with UK singles in their mid 20s to early 30s.
In January of 2020, Love and Rawlings took a "deep dive" into their internal data and discovered that "60% of matches resulted in conversations and Thursday was the busiest day of the week on the app by a considerable margin."
They decided to take their dating app in a different direction, completely redesigning Honeypot and rebranding as Thursday. Wanting to create a so-called "offline dating app", they also declared a new mission:
To make Thursday the most exciting day to be single, every week because one day you'll meet.
How Thursday Works
As the two founders explained to the Daily Mail, they want to combat dating app fatigue - especially after the lock-downs people experienced where dating apps were the only option.
Getting a match isn't exciting anymore because of the time and effort involved in sparking a decent conversation which actually results in a date. People are all on different agendas and things fizzle out quickly.
But with Thursday, all your matches and messages disappear at midnight - so theoretically, everyone is on the same page. Match, message and make some plans.
This is how it works…
At 12:01 am on Thursday, all the features unlock so you can see profiles, send likes, match and exchange messages, etc. Access the app any other day of the week, and all but one section is locked:
All you can do is update your profile and watch the countdown clock tick down to next Thursday.
The app requires you to specify your availability for a date on Thursday each week, which you can do by toggling it on and off in the settings menu.
When you log in on Thursdays, you can see a map of users in your area. They'll be shown to you 10 at a time, with more being revealed as you like or pass their profiles.
For privacy reasons, the map only shows a user's location within a general 500m radius. (If Thursday isn't available in your area yet, check out Happn - it uses the same type of interactive map to check out singles near you!)
You'll see people within the distance radius you specify in the settings. Allowing the app to display your general location on the app is necessary to receive and send likes.
What You Can Do For Free
Standard members who use Thursday for free can view up to 100 profiles every Thursday, send up to "10" likes, and message their matches.
Thursday also offers a VIP Membership that removes the restrictions on how many people you can "like" as well as view. More on that coming up!
As with most dating apps, you can "like" a profile by tapping the heart icon or pass by tapping the X.
If that user has already "liked" your profile, you'll have the option to match by tapping the conversation icon that replaces the heart.
Thursday lets you include a message with your "like," and if your potential match did that you can see their message displayed on their profile.
Once you've matched, you can send a date invite or exchange messages. To send a date invite, tap that option in the messaging screen, propose a location, and suggest a time.
If you're not ready to ask your match out quite yet, you can exchange messages, send gifs, and share video clips. Thursday supports story-like features similar to Instagram.
But When The Clock Strikes Midnight...
The app wipes out everything, including all your matches, chats, video clips, etc. from the previous 24 hours. Each Thursday starts off with a clean slate.
Be thoughtful about your likes, because you won't see the same profiles every week. And when you do match, do your best to set a date or exchange contact information as it may be your only chance.
You may never rematch with the same person on Thursday, as the app warns, "It is unlikely you will have the opportunity to rematch the following week."
Thursday Dating App Cost
You can download the Thursday app and create a profile for free. You can also access all the features on Thursday, with some restrictions.
To recap, users with a standard (free) membership can log in on Thursdays and:
Send up to 10 'likes'
View up to 100 profiles
Exchange messages with matches
There is also a premium VIP Membership, which costs $14.99 per month.
In addition to all the standard features, a premium membership on Thursday allows you to:
Send unlimited likes
Check out as many profiles as you want
Boost your profile, which the app says gets your profile 60x more exposure
Of course, the premium features are also only accessible on that one magical day of the week.
The app claims the number of BlackCard memberships are limited. You can cancel your subscription at any time.
Getting Started On Thursday
You can download Thursday for both iOS and Android.
Getting started is easy. First, you select your time zone. Which, for now, is a choice of New York or the UK.
Next you'll be prompted to sign up via Facebook, Apple or with email. Follow the prompts, entering the required information such as your name, email address and mobile number.
As with most dating apps, you'll be asked to provide the verification code and then enable notifications.
To begin, you'll select your gender (Male, Female or Non-Binary), who you're interested in dating, and your age and distance preferences.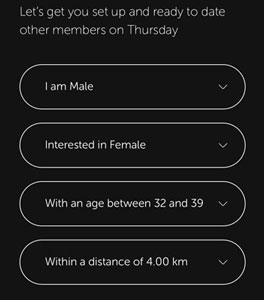 Select Your Best Primary Photo
Next you'll upload your primary profile photo, which you can grab from Facebook, Instagram or your camera roll.
The profile pic you choose can make or break your results, so select it carefully! You'll find plenty of science-backed photo advice in this article, but for now try to follow these rules:
Once your primary image has been added to your Thursday profile, you'll set your location within the app.
If you want to skip this part during the set-up process, you can - but it will default to London. You'll also need to enable location and appear on the map in order to send or receive likes.
Select your birth date, height, occupation and location, then add your interest badges.
Thursday Profile Prompts
Profiles on Thursday are similar to how they're set up on Hinge's dating app - your answers to three conversation starter prompts display between your photos. You can change your answers at any time.
Thursday prompt examples include:
"My ideal date today would be…"
"A major green flag is…"
"My life has never been the same since…"
"Something good that happened to me this week…"
"The most spontaneous thing I've ever done is…"
"I'm at my happiest when…"
Just by my profile, you'd never guess that I…"
"In a nutshell, I…"
"A personal goal I've been working on is…"
"Would you rather…"
"Weirdest thing I've bought on Amazon…"
"The thing I'm proudest of but don't talk about is…"
How To Write An Effective Thursday Conversation Starter
Choose prompts where your answers make it easy for a match to start a conversation with you. Mention a favorite hobby, intriguing interest, or upcoming trip - anything that will spark your match's curiosity and prompt them to reach out.
And if you can do that and highlight an attractive quality you possess, even better. Thursday bios don't offer up a lot of information, so everything you choose to include needs to make you seem like a hot romantic prospect.
This is an example of a good Thursday prompt answer:
Scuba diving is a perfect type of hobby to mention.
It requires both an adventurous spirit and a high level of physical fitness - both extremely attractive qualities that many people include on their "must have" lists!
Choosing Your Best Dating App Photos
Once you've added your 3 prompts, you need to add 4 more photos that will display in between your prompt answers. Unlike apps like Tinder, adding 4 isn't a suggestion - it's a requirement.
Thursday's entire premise revolves around going from match to message to date within the course of 24 hours. And that means your photos need to make your potential matches immediately think, "Now there's someone who looks fun to hang out with!"
It's a dating app, so you already know you need to choose pics where you look good.
But also curate your lineup with an eye for showing off your personality. Think vibrant, interesting locations, fun activities, etc. Thursday is not the app for boring bathroom mirror selfies.
Thursday App Verification
After uploading all your photos, Thursday requires all users to take a verification selfie.
Follow the prompts on the camera screen, and you're in.
The menu bar at the bottom of the screen will unlock at the stroke of midnight on Thursday!
Thursday App Review Verdict
If it's available in your area, give it a shot.
The built-in 24-hour time line is great for singles who want to spend less time swiping and messaging, and more time seeing if there's actual chemistry in person. And you'll feel like you're saving time since it's only active once a week.
But those are also the factors that make using Thursday more challenging! The hyper-accelerated match/message/date timeline means your game has to be on point, whether you're looking for relationship prospects or to hook up with a match.
Are You Ready For A Warp Speed Dating App?
Convincing someone to share their phone number or meet you in person requires building up both trust and attraction - and accomplishing that with the clock ticking is no small feat.
And be prepared to babysit the app all day long. The last thing you want to do on an app that only works one day out of seven is miss a message or run out of time with your best matches.
Starting to wish there was some way you could enjoy all those Thursday dates… but without the high-pressure effort of making them happen?
Enter VIDA Select.
VIDA's dating experts handle every aspect for you, from creating a profile designed to attract the attention of the type of singles you want to meet to messaging and locking in a date!
Meeting someone special really can be that easy. Just click here to find out how!
Want us to do your online dating for you?

Hey, I'm Ally, VIDA Select's Director of Matchmaking.
We take all the frustration, hard work and hassle out of modern dating!
Imagine your very own Dream Team of highly skilled dating experts searching for the very best local matches, sparking their interest, and arranging all the dates for you.
Wouldn't it be nice to finally stop swiping and start dating higher quality matches so you can meet someone special?
We've helped thousands of singles just like you since 2009, and we're ready to make you our next success story!
What are you waiting for? Take the next step now…
See If You Qualify