I hope you enjoy reading the blog post.
If you want my team to just do your Tinder for you, click here to chat with me.
Tinder Relationship Goals Explained [Get Better Matches!]
In an effort to add a layer of transparency to online dating, Tinder launched the Relationship Goals feature in late 2022. Now users can share what they're on the app hoping to find, with the idea being that insight will help singles be more intentional about who they match with. 
The tips and insights you're about to discover come straight from VIDA Select's team of dating experts. Since the app launched back in 2012, we've logged thousands upon thousands of hours on Tinder, optimizing profiles, swiping, and messaging on behalf of all the clients we represent online.
Keep reading to learn exactly how the feature works and how to optimize your profile to attract more like-minded matches!
Tinder Relationship Goals Explained Table of Contents
Let's start with how to use this Tinder feature...
How Relationship Goals Works On Tinder
Providing clarity around your relationship goals will help you make connections with singles who are looking for the same thing.
Many dating apps have already incorporated a way to share this information with potential matches, like Hinge's "Dating Intentions" and "Relationship Type" badges.
Tinder's Relationship Goals feature works much the same way.
Users choose from a menu of 6 different intents:
Long-term
Long-term, but open to short
Short-term, but open to long
Short-term fun
New friends
Still figuring it out
Whichever option you select is displayed as a badge on your profile. You'll also be prompted weekly to update the status if needed, and you can change it whenever you want.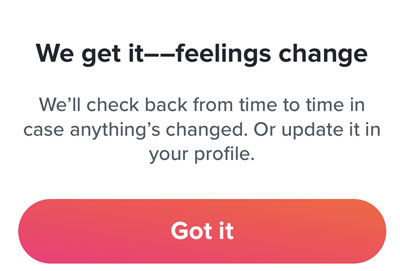 To add your relationship goal to Tinder, follow these steps:
Tap the person icon in the menu bar
Tap the profile icon to access the profile editing screen
Scroll down to the Relationship Goals settings
Tap Add and select the emoji which best represents what you're hoping to find on Tinder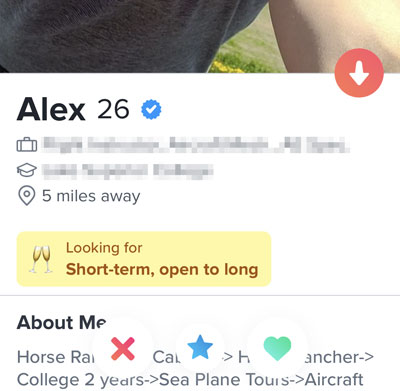 Your potential matches will now see your relationship goal displayed just above the About Me section of your Tinder profile.
In addition to specifying your relationship goals, Tinder also allows users to specify the types of relationships they're open to.
You'll find the Relationship Types options just under the Relationship Goals in the profile editing screen.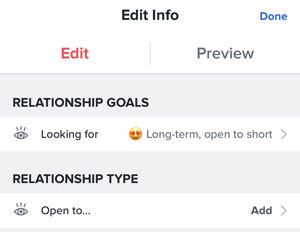 There are 5 relationship types to choose from:
Monogamy
Ethical non-monogamy
Open relationship
Polyamory
Open to exploring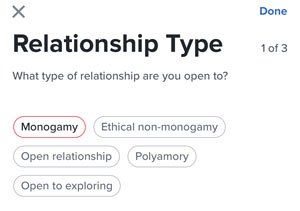 Whichever ones you select will also display as badges on your profile.
Why You Should Use The Relationship Goals Feature
According to Tinder's internal data, over half of members used the feature to share their intentions when it was being tested in select markets. And somewhat surprisingly, the most selected Relationship Goal is "Long Term Relationship," with 40% of daters on Tinder selecting that badge.
As Tinder's VP of Core Product Kyle Miller theorized in a press release, the feature's popularity is in part because 72% of Tinder users are looking for someone who knows what they want.
This feature was developed in response to a shift we've seen among our members. Young singles, who make-up a majority of Tinder, are increasingly becoming more intentional with who they spend their time with.

-Kyle Miller, Tinder VP
That means letting your potential matches know that you know what you want is an easy move that could boost your match rate.
Want to really maximize your chances of getting more Tinder dates? Then…
Optimize Your Tinder Profile For Your Relationship Intent
Ideally, you want the tone and style of your Tinder bio to be cohesive with your stated relationship goal. That's important, because a mismatch between the two could raise a red flag for your potential matches.
Take this profile, for instance: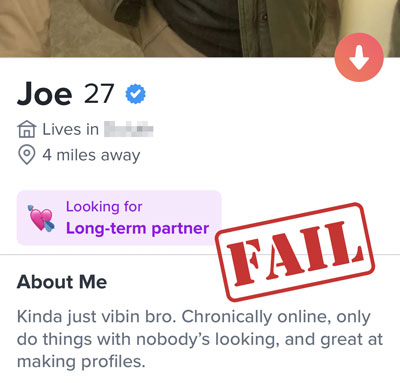 Joe is looking for something serious according to his Relationship Goals badge, but his bio implies the opposite. He hasn't written anything to make himself look like a compelling potential match for a woman who is also looking for a committed relationship.
She'll likely come away with the impression that something doesn't add up about Joe and his intentions, and swipe left accordingly.
For the best chance of success, your Tinder profile needs to be cohesive.
If you advertise that you're looking for a long term partner, but your bio is too flirty, cocky or sparse on details that make you seem like relationship material, then you aren't making the right impression.
Similarly, if you choose the short term fun option, but your bio and photos are on the serious side, the seed of doubt has been planted.
The tone of your bio and prompts should be congruent with your chosen Relationship Goal, and you should curate the information you include with an eye for what a potential match who's looking for the same thing would find compelling.
Let's break down this concept with a few more examples.
Example #1: Long-Term Partner Tinder Relationship Goal
If you select "long-term partner" as your Relationship Goal, but your bio looks something like this:

…it doesn't exactly line up. If you're not willing to put in the effort to write a decent bio and make a good first impression on the app, what does that tell your potential matches about the effort you'll put into a message exchange or first date, much less a relationship?
Bland, zero-effort bios aren't appealing for any Relationship Goals status. And on an app where men outnumber women so heavily, you need to do everything possible to market yourself in an attractive way.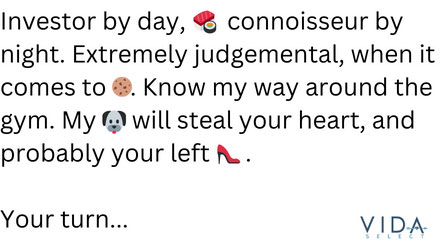 This bio ticks the right "relationship-worthy" boxes: good job, sense of humor, works out, cares for dog. Pair that with a few strong Tinder photos, and you'll have a profile that's optimized for your long-term partner Tinder relationship goal.
Example #2: Short-Term, Open To Long Tinder Relationship Goal
With the short-term intent badge, you can get away with a more humorous approach.
But since you're leaving long-term on the table, you also want to at least hint at a few "boyfriend material" qualities you bring to the table.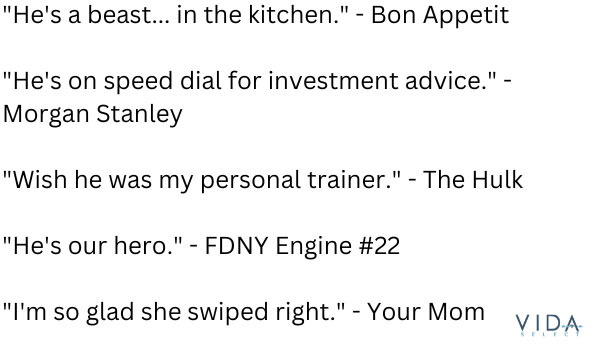 Even if you're not in the market for anything serious, it's also a good idea to go through Tinder's verification process. Verifying your profile is easy to do, you just need to submit a short video selfie to earn the blue check mark.
Taking that extra step helps reassure your matches that your profile is legit.
Example #3: Short-Term Fun Tinder Relationship Goal
If you're just on Tinder for casual dating, the key to success is having a profile that makes you seem like a fun guy to spend time with.
An easy way to do that is by showing off your sense of humor, like this: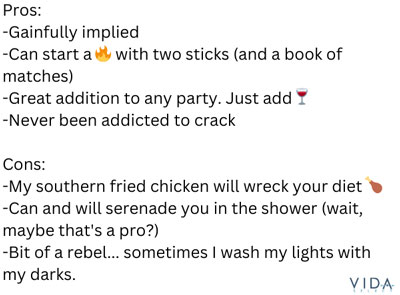 Even if you're just on Tinder for hookups, your profile still needs to convince her to swipe right.
Any guy who's been on Tinder for more than a minute knows the competition for the hottest matches is fierce, so investing time in the impression you're making is important if you want to actually meet any matches face to face.
Our Tinder Guide is packed with all the profile, photo and message tips you need to attract the matches you want to date.
Or, if all that R&D sounds like too much hassle…
Let VIDA Select's Dating Experts Get Tinder Dates For You!
VIDA Select has been helping singles get more high-quality matches and enjoy better dates since 2009. The secret? Our team of experts handles every aspect of online dating for you!
From crafting your profile and optimizing your photos to writing compelling messages on your behalf, VIDA makes meeting amazing Tinder matches effortless - no matter what type of relationship you're looking for!
Want us to do your online dating for you?

Hey, I'm Ally, VIDA Select's Director of Matchmaking.
We take all the frustration, hard work and hassle out of modern dating!
Imagine your very own Dream Team of highly skilled dating experts searching for the very best local matches, sparking their interest, and arranging all the dates for you.
Wouldn't it be nice to finally stop swiping and start dating higher quality matches so you can meet someone special?
We've helped thousands of singles just like you since 2009, and we're ready to make you our next success story!
What are you waiting for? Take the next step now…
See If You Qualify