I hope you enjoy reading the blog post.
If you want to chat now about your matchmaking search, click here.
Hinckley Introductions Review [Best New England Matchmaker?]
Wondering if Jill Hinckley and her team have what it takes to find your ideal partner? This Hinckley Introductions review has all the details you need to decide if she's the best New England matchmaker for you!
Our team of experts has reviewed over 200 matchmakers and their services, ranging from small independents to international organizations.
With 14+ years of first-hand industry experience and a keen understanding of the landscape, we're intimately familiar with what clients value most in a matchmaker.
Coming up, you'll learn how Jill Hinckley got into matchmaking, the steps to becoming a Hinckley Introductions client, what actual customers are saying, and more!
Hinckley Introductions Review Table Of Contents:
Let's dive in!
Meet Jill Hinckley - From Boating To Maine Matchmaking
Jill Hinckley, the founder of Hinckley Introductions, has an intriguing background that bridges two seemingly different worlds: yachts and matchmaking.
Her professional career started in Maine's boating, working for her family's business, Hinckley Yachts.
As a high school student, she contributed by providing tours of Southwest Harbor. Her involvement with the company extended into her college years, when she worked on the docks during summer breaks.
Following the sale of her family enterprise, Hinckley moved into a recruiting role. A job, she says, she thoroughly enjoyed, and it honed her knack for bringing people together.
As Hinckley puts it,
"When I was doing the recruiting and I was meeting the people that were looking for jobs in the boating business, I started connecting with their personal story."
During this time, Hinckley says she found meaning in the personal stories of single friends seeking meaningful connections. It dawned on her that her recruitment work bore a striking resemblance to matchmaking — connecting an individual with an organization or facilitating a connection between two people.
In a conversation with Maine Magazine, she explained,
"So recruiting in the boat business actually brought me to matchmaking. Kind of a roundabout way but I ended up here, and I love it."
In 2013, she launched Hinckley Introductions, combining her skill at fostering connections with her drive to help others find love. Her New England-based matchmaking agency has offices in Portland and Boston.
In August 2019, she initiated 'Make Your Match,' a closed Facebook community. It serves as a platform for matchmakers and love coaches to aid singles in exploring innovative ways to find love.
A Peek At Their Clientele
Hinckley Introductions predominantly caters to men and women over the age of 40 as paying clients, according to Hinckley. 
Her matchmaking endeavors initially focused solely on Maine. But as time passed she extended her reach, discovering that many of her clients were 'snow birds' migrating from New England to Florida for the winter, or professionals traveling from Maine to Boston for work.
This scenario led her to collaborate with matchmakers in different states. As she shared in an interview,
"There's a lot of cross-state-lines activity going on. Which really the fun part for me with that is I got involved with other matchmakers."
Hinckley acknowledges that matchmakers often specialize in specific areas, and her expertise reflects her maritime background.
She observed a recurring theme among her clientele who frequently share a passion for sailing and the ocean. In attracting such clients, the well-known Hinckley name associated with her family's yacht business provides an edge.
As she puts it,
"Often people recognize the name Hinckley, and if they love the ocean and they love sailing in Maine, they pick me because I like to match people who also love the ocean and sailing."
In order to develop a close, personal relationship with each of her clients she typically works with only 10 to 15 people each year.
Jill Hinckley's Matchmaking Philosophy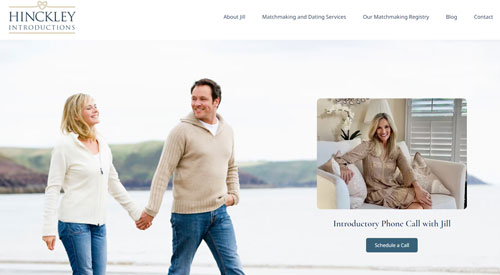 Jill Hinckley's matchmaking philosophy centers around positivity, proactivity, and preparedness, taking note of the emotional complexities related to finding a compatible partner. In her own words,
"My job is to encourage people to try new things, to stay proactive, to stay positive because I believe their person is out there."
She appreciates the unique perspectives, experiences, and distinctive journeys each client brings to their search for love.
A crucial component of Hinckley's philosophy revolves around timing—underlining a client's readiness to welcome a new relationship into their life. She comments on how sometimes, despite seeking matchmaking services, clients may not be emotionally prepared for a new bond.
Acknowledging the huge leap into the dating world for many who have been out of the dating game for a while, Hinckley advocates for a measured approach:
"We try to take baby steps; we don't want to throw people into this without all the tools they need to get through this experience."
It's fairly common for clients to bring a list of desirable qualities they're looking for in an ideal partner. However, Hinckley encourages clients to adopt a more introspective perspective that's centered around shared experiences and genuine connections.
Hinckley described it this way in an interview,
"Can you sit on that porch and talk for hours with that person? Is that somebody you really want to spend time with? That's where I try to get people to focus on, not so much the list but more about the experience of being with that person."
Respecting clients' non-negotiable 'deal-breakers' is another fundamental aspect of her method, taking into account factors like religious beliefs and political viewpoints.
Throughout the process, Hinckley encourages her clients to maximize social interactions and community involvement.
As Hinckley puts it,
"Go to non-profit events. Join something in your community. Get involved with people that are giving to their community. That's where you want to be. You want to be out and about."
In addition to professional matchmaking, Hinckley also offers dating coaching. As she explained in an interview, coaching clients are often individuals who are divorced, widowed or haven't been actively involved in the dating scene.
She typically suggests these singles start with coaching and then move on to matchmaking when they're ready.
How Hinckley Introductions Works
Hinckley Introductions' matchmaking process is customized to suit each client's individual needs, with a core emphasis on gaining a deeper understanding of the client before commencing the matchmaking journey.
This typically involves multiple consultations and a contract commitment lasting 6 to 12 months.
Hinckley Introductions offers multiple levels of service.
At a basic level, potential clients have an option to simply be a part of the database, a service that is offered for free. The only requirement is to fill out a questionnaire. However this is not an active search, so you'll only be contacted if you happen to match a paying client's criteria.
Clients who want active matchmaking service have several options to choose from, including having the details of each first date arranged for them.
You'll be meeting singles from her database, or candidates she has sourced via her network of contacts.
The matchmaking process starts with a complimentary 30-minute introductory call to learn more about the package options. This is followed by a more in-depth consultation call that costs around $160.
She doesn't reveal the cost of her matchmaking packages online, only referring to them as "an investment".
Want a quick price comparison so you know what to expect? Check out what these 8 Boston matchmakers cost!
But to get you in the ballpark, here are two other matchmaking services for New England singles to consider, along with pricing…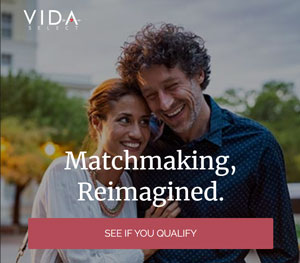 VIDA Select takes a modern approach to finding your ideal partner, leveraging the largest source of singles there is! You'll be presented with profiles of each potential match, including photos, to accept or pass.
That means you'll go into each first date confident that you're meeting singles you're attracted to. Not only do they meet all your criteria, they're excited to meet you too!
VIDA's packages are purchased on a month-to-month basis, which means there are no long-term contracts. Basic matchmaking services start at only $1095 per month, with Premium options starting at $1695 per month. Elite matchmaking begins at just $2595 per month.
The cost of your package highly aligns with the number of hours your professional matchmaker will devote to your search. On average, clients meet someone special within just 3 months!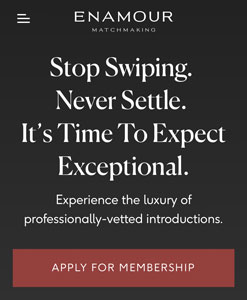 Enamour helps accomplished professionals meet equally accomplished matches, not just in Maine and Massachusetts, but all over the world. As a client, you'll be paired with highly compatible singles from Enamour's exclusive, invitation-only database of candidates.
You'll also meet people who have been identified from sources both offline and online via recruiting tech and a network of scouts.
Enamour's packages start around $20,000.
Now that you have at least an idea of what you might expect to spend, let's take a look at what former Hinckley Introductions clients had to say about their experience!
Hinckley Introductions Reviews
Hinckley Introductions has a 5-star rating on its Google business page.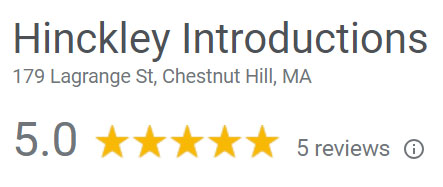 This reviewer described matchmaker Jill Hinckley in a positive light: 
And this client thought working with Hinckley was an enjoyable experience:
One 5-star review was left by a fellow matchmaker, Trenia Norford, who operates a Connecticut-based firm:

Jill Hinckley's matchmaking service has a Yelp entry, however the page is unclaimed and there are no recommended reviews yet.

There is one 'not currently recommended' Hinckley Introductions review giving the service 5 stars.
Hinckley Introductions has yet to be reviewed on platforms like Trustpilot and BBB.
Is Hinckley Introductions The Right Service For You?
Hiring a matchmaking service isn't just a financial commitment - you're about to entrust the matchmaker with a deeply personal aspect of your life.
And with so many elite matchmaking services to choose from, you definitely want to ensure you're making the best choice.
Reading matchmaking services like this one is a great way to start narrowing down your options. And when it comes to preparing for your initial consultation with a matchmaker, we've got you covered there, too:
Check out our Insider's Guide To Hiring A Matchmaking Service.
It's packed with insightful questions to ask and crucial elements to consider before committing to a contract. Give it a quick read before you pick up the phone!
All product and company names are trademarks™ or registered® trademarks of their respective holders. Use of them does not imply any affiliation with or endorsement by them.
Why Choose VIDA Select?

Since 2009, thousands of clients have discovered true love thanks to VIDA Select's fresh, modern approach to matchmaking – which has finally thrown blind dates and long-term contracts out the window. This isn't your grandmother's matchmaking!
Instead of working with a single matchmaker using a small rolodex of potential partners, VIDA Select's matchmaking team taps into the world's largest database of available singles. We'll quickly identify the matches who check all of your boxes so you can finally experience true chemistry. Are you ready to become our next success story? Schedule your complimentary consultation now by clicking the button below!
Get Started Now