I hope you enjoy reading the blog post.
If you want my team to just do your online dating for you, click here.
Online Dating After Divorce [Advice & Strategies For Men!]
Dating after divorce is never easy - and online dating can be even more frustrating.
With so many singles flocking to dating apps like Tinder and sites like Match, catching the attention of the women you'd really like to meet can feel like an uphill battle.
Add to the mix that you may be feeling a bit "out of practice" - especially if you met your ex-wife back when getting a date was as easy as asking "Hey, mind if we compare chemistry notes?"
Or maybe you relied on the old "Mind if I buy you a drink?" line. Of course that was back when hanging out at bars every night chasing women used to be fun. But who has time for that these days?
If you're struggling with how to approach dating after a divorce, you're not alone.
With fewer opportunities to meet women, and even less time to brush up (or acquire!) your modern dating skills, successfully locking in a date has never seemed like So. Much. Work.
Using a modern dating service like VIDA Select to do all the legwork for you is the easiest route.
But if you want to give it a try on your own first, these 8 dating after divorce strategies will help you successfully meet attractive women on dating sites and apps!
It all starts with using the...
#1: Best Dating Apps & Sites For Divorced Men
There are endless choices when it comes to dating sites & apps, but your best bet is to start with the Big Four:
You want lots of potential matches and exposure to attractive women, so it makes sense to start with the most popular options out there. The more women who use it, the higher the odds you'll find someone who fits your "date worthy" criteria, whatever they may be.
Match, OkCupid, PlentyOfFish and are three of the most popular dating platforms in the world, and they're all quality sites with easy to use companion apps.
Tinder is still the reigning king of dating apps, so you won't find a larger dating pool anywhere else. You can also use Tinder Web access it from any device.
It's your best bet if you're single and dating in a larger city. Plus, it's not just for the younger crowd - slightly under 50% of Tinder users are 30+.
You'll find women looking for a broad range of relationships, from one night stands to marriage. To many, it's still considered an app for casual dating, so it's ideal if you aren't ready for another long-term relationship yet.
And if you are ready for something longer term again, Hinge and Coffee Meets Bagel are two less popular but still quality apps that tend to attract daters looking for a relationship. Bumble does as well, but the majority of the singles you'll find there are under 30. If you're looking to date someone younger, that's a good place to find her.
Here is an age breakdown for some of the more popular dating apps, courtesy of SurveyMonkey:
If you're still not sure how to get started, find out more about choosing the best dating site for your situation!
#2: Check Your Status
Not all dating sites and apps require you to enter your relationship status, but if you're on one that does it's a choice that can affect your results.
If your divorce is not yet finalized, think carefully about whether or not to select "Separated" in the relationship status pulldown.
Many women interpret that as "I have baggage" or, worse yet, "I'm still married." And even when "prefer not to say" is an option, many women will go ahead and assume you're married.
Divorces take a long time to finalize, especially when kids are involved. You mentally moved on from your wife a long time ago, so go ahead and check "Divorced".
If that ideal makes you feel really uncomfortable, opt for one of the dating apps listed above where you don't have to specify your relationship status.
Don't mention it in your profile, because basically any variation of "I need to be discreet" is going to raise red flags for her.
There are plenty of ways to control who sees your online dating profile, and some sites and apps let you be more private than others. You'll find a full rundown on how to keep your profiles private here!
You can always disclose the full story later when you know she's really into you. She'll have seen for herself that it's over and you're just waiting for the legal process to be completed.
#3: How To Handle Your Kids
If you have kids, that's one thing you probably should NOT lie about.
Sure, if a woman is only interested in men without children, she's going to skip over your profile. But you don't want to date her anyway.
So go ahead and select "Yes" from the "Have kids?" pulldown (or whatever it says). Then, mention your children in your profile or use a photo you took with them. If they know you're a dad, you want them to know you're a good one. A world-class father certainly doesn't hide his kids.
Just don't make your profile all about your kids. Limit them to 1 photo appearance and/or 1-2 profile mentions. Remember, she's here to date you, not them.
But first, you've got to make her want to date you. And that's where your profile comes in.
#4: Write A Magnetic Profile
Women are bombarded with messages every day on sites like Match.com, and she won't bother responding to yours if your profile doesn't snag her attention and give her a reason to tap "Like".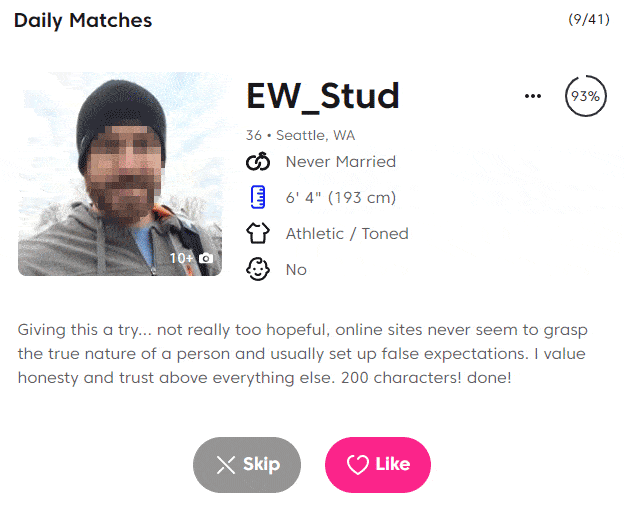 An enticing profile will make her want to write you back!
Here's how to do it:
Do: Use humor and descriptive language. Tell stories about yourself that illustrate your virtues instead of just listing them. There's nothing more yawn-inducing than "Dependable. Easy-going. Fun."
Instead, tell her about taking your mom to Sunday brunch last week, or watching your son hit his first home run.
Do: Be authentic. Women want to meet someone who seems real in their profile. Include details like what you do for a living and what hobbies you enjoy.
No need to be flashy or picture-perfect -- an aura of success is important, but so is being humble. Lightly self-deprecating humor is sexy, and a whopping 97% of single women consider a sense of humor as attractive as physical good looks.
If you like to cook, consider a line like this:
Ok, I admit... I probably won't be receiving any Michelin stars, but my pan roasted halibut with lemon sauce has been called "not that bad," "tastier than it looks," and "a dinner worth sharing."
Do: Make some of it about her. The ideal ratio for the main intro section is around 70% describing you, and 30% describing who you're looking for.
Do: Choose your words carefully. Vocabulary seriously impacts online likeability. The data crunchers over at Wired magazine revealed the words "surf", "yoga", "skiing" and "ocean" are the 4 most attractive words men can use in their profiles.
Positive words and phrasing will generally boost her impression, while words with a more negative connotation can tarnish it. For instance, listing what you *don't* want in a partner isn't nearly as effective as describing what type of person you are looking for.
And hinting that your online dating experience has been less than successful and you're about to give up is an instant mood killer.
Grammar and spelling make a difference as well, so bring your A-game. Show your profile to that friend who always points out typos on the menu.
And here's one big don't: Unpack your baggage and strew it all over your profile. Face it — you're divorced, you've probably got a couple sour grapes.
You might not even be sure if you're completely over a difficult separation, or hesitant to put yourself back out there.
That's normal, but save it for your counselor, not your dating profile.
Confidence is sexy, and even if you don't feel 100% ready to get back out there, you don't need to advertise it in your profile.
Highlight your most attractive traits in your profile, don't hand her reasons not to date you like this guy did:

To recap:
#5: Choose High-Quality Photos
Choosing strong photographs is even more important than writing a great profile.
Research has shown that women spend a mere 1/10th of a second to form an impression of someone in a photograph. So if you make a bad one, she's not going to check out your profile or return your message.
Chances are, most of your photos feature your (soon-to-be) ex or your kids, or maybe you don't have that many current ones.
Cropping out your ex is one option, but grabbing a buddy with a good camera and doing a quick photo session will probably get you better results. Or consider going pro, just don't make it look like you hired a photographer.
Your primary profile pic will often determine whether or not she's even interested in seeing the rest of your lineup.
But don't worry, there are certain choices you can make here that will increase your odds of success, no matter what you look like!
When selecting your main profile picture, follow these rules for maximum impact:
Check out this article for tips on choosing the best online dating photos!
#6: Get Some Feedback On Your Potential Photo Lineup
Remember, when she's checking out your photos, she'll be imagining herself right next to you in the frame. Make her want to be part of your exciting life.
Many dating apps, like Hinge, encourage users to initiate conversations by commenting on a specific photo.
You'll want to choose your lineup with that in mind, as interesting photos where you're interacting with your environment, engaged in a hobby, or playing with an adorable dog will elicit more messages than a boring selfie or posed pic.
Be intentional about your photo selection. Uploading whatever is most handy in Facebook without taking quality into consideration can give the impression you're not that invested in the dating process - and she'll take the hint.
Once you've got a selection of quality photographs, get a second opinion. Ask female friends for feedback, or use one of the sites created for just this purpose, like Photofeeler. You can even use Tinder's Smart Photos feature for input in a pinch.
Post the most popular photos in your dating profile, with the all-around favorite in the primary spot (assuming it meets the photo rules you've already read about).
Now that your profile is written and your photos chosen, it's time to message some women!
#7: Send A Message That Grabs Her Attention
Composing a message that catches her eye is no easy feat. Attractive women are often flooded with messages from guys just like you, so you'll have to stand out from the crowd if you want her to respond.
Follow these tips, and you'll be on your way to a date in no time.
Do: Use an off-the-wall icebreaker to capture her attention. Give her a reason to respond by asking a creative question that's fun to think about and answer, like:
Do: Read her profile and reference specifics in your message. Keep an eye out for shared interests. This may seem obvious, but you'd be shocked how many women get swamped with nothing but "hi" in their inbox.
And if you want to know the secret for sending multiple women the same message (and getting away with it!), check out these pro messaging tips!
Don't: Send messages that say "hey beautiful."
If you're going to compliment her, compliment her on something she has control over. Maybe it's her witty profile, her kiteboarding prowess, or the fact that she has a PhD in astrobiology.
Do: End your message with a question — it gives her a reason to respond. The biggest mistake guys make when sending messages is not asking a question.
Even asking something simple like, "I see you're into travel. What was your latest great adventure?" is better than just saying "What's up" and leaving the conversational ball in her court.
#8: Lock In The Date
Just like in comedy, timing is essential. Too soon and you'll scare her off. Wait too long and she'll lose interest.
VIDA's team of data analysts track everything, including all the message exchanges we do on behalf of clients that lead to dates. That's how we know the ideal time to ask for the date is after she's sent you 2 or 3 emails.
That's also how we know the most effective way to ask her out!
Keep it simple with something like this:
The choice between two activities is crucial - it doubles the acceptance rate, versus just suggesting one activity. NEVER only suggest alcoholic drinks - making that mistake cuts the acceptance rate in half.
Here are two more ways to handle "the ask":
Mention a shared interest that came to light during your message exchange. For instance, scuba diving.

"This seems like a topic better discussed in person. How about we talk diving over coffee or drinks?"

Take a lightly teasing approach.

"You call yourself an adventurer, but I'm not convinced... Why don't we grab a cup of coffee or glass of wine, and you can show me your credentials. ;-)"
You'll find even more ideas and tips on turning a message exchange into a date here!
Sound Like A Lot Of Work (And Potential Frustration?)
It can be tough to put yourself out there and send messages to strangers - especially when you invest hours messaging dozens of women and never hear back from the ones you like best, or any at all!
And it's frustrating when you're chatting with a woman you really like and suddenly she stops responding to your messages. All you get is radio silence and you begin to wonder: "What did I do wrong? Is it something I said? Did she meet someone else? Why doesn't she just tell me??"
If you'd prefer to skip all this frustration and save valuable time, VIDA has your back. We'll handle everything for you and inject a ton of expertise into the entire process so you can meet your ideal types of women without all the hassle.
We've gotten dates for 99.2% of our recently divorced clients, with matches they approve. And 63% of them turned those dates into long-term relationships.
We'll write your profile, select your photos, and even message women for you - so there's no need to spend another Friday night alone. Click here to see if you qualify!
Want us to do your online dating for you?

Hey, I'm Ally, VIDA Select's Director of Matchmaking.
We take all the frustration, hard work and hassle out of modern dating!
Imagine your very own Dream Team of highly skilled dating experts searching for the very best local matches, sparking their interest, and arranging all the dates for you.
Wouldn't it be nice to finally stop swiping and start dating higher quality matches so you can meet someone special?
We've helped thousands of singles just like you since 2009, and we're ready to make you our next success story!
What are you waiting for? Take the next step now…
See If You Qualify