I hope you enjoy reading the blog post.
If you want to chat now about your matchmaking search, click here.
Stellar Hitch Reviews - Does This Matchmaking Service Really Work?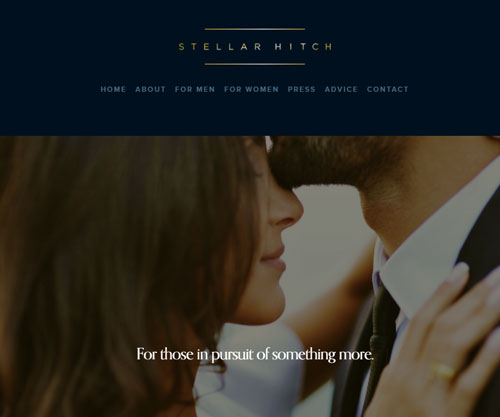 If you're reading this page right now, you're probably wondering: "Can Stellar Hitch help me to find my ideal partner?"
Well, you've come to the right place…
The options may seem endless. With so many elite matchmaking services to choose from, you want to make sure the one you select is both reputable and right for you. After all, choosing a matchmaker could actually be one of the most important decisions you ever make in life.
That's why we've compiled a handful of Stellar Hitch reviews for you.
Plus, we've done all the research - from the price to the guarantee - so you don't have to...
Where It All Began
Stellar Hitch is a matchmaking service founded in 2009 by Andrea Morara and Cristina Morara, a husband and wife team. This elite matchmaking service offers image consulting and coaching services in addition to matchmaking.
They have offices in Sarasota, FL and Los Angeles.

Cristina Morara is a former casting director and her husband Andrea is an Italian design consultant. The two started Stellar Hitch after opening a small wine bar together, and observing that their attractive single clients were having trouble meeting their ideal partners.
The Stellar Hitch Philosophy
Cristina Morara describes her clientele as upscale professionals who don't have time to go on a million first dates. They're looking for highly curated matches.
Stellar Hitch takes a "quality over quantity" approach to matchmaking, with an emphasis placed on getting to know each client individually and determining what they need to have a successful relationship.
It's a "boutique" matchmaking service, meaning they only work with a set number of clients at any given time.
Clients can be matched with other clients or with people in Stellar Hitch's network of contacts. While they have scouts that will approach attractive, interesting singles to see if they want to be added to Stellar Hitch's database, Cristina Morara says most of Stellar Hitch's database was built from word-of-mouth and referrals.
In addition to matchmaking, Stellar Hitch offers image consulting and dating coaching.
Andrea Morara uses his background in design to give clients a "Stellar Personal Brand Review." It includes a wardrobe critique and advice for creating a signature style.
Cristina will work with male clients to give them a "female perspective" on what women are looking for, while Andrew coaches female clients on what men really want.
Both of these services are offered before a date is scheduled, so that each client has the best possible experience during their introductions.
Stellar Hitch Cost
Coaching sessions go for around $100 per hour. Image consulting services start at approximately $125 per hour (pricing subject to change).
Matchmaking packages start between $5,000 and $15,000, and are discussed during a face-to-face interview. Factors influencing cost include the specificity of your match criteria, and the scope of the search.
Unlike some other matchmaking services like Tawkify, Stellar Hitch doesn't offer a guarantee. According to the Morara's, matchmaking is not a "cookie cutter experience" and results vary by client.
The Matchmaking Process
The first step to becoming a Stellar Hitch client is filling out a confidential intake form that can be found on the website. In addition to basic questions like height, weight, and eye color, be prepared to answer more in-depth questions like these: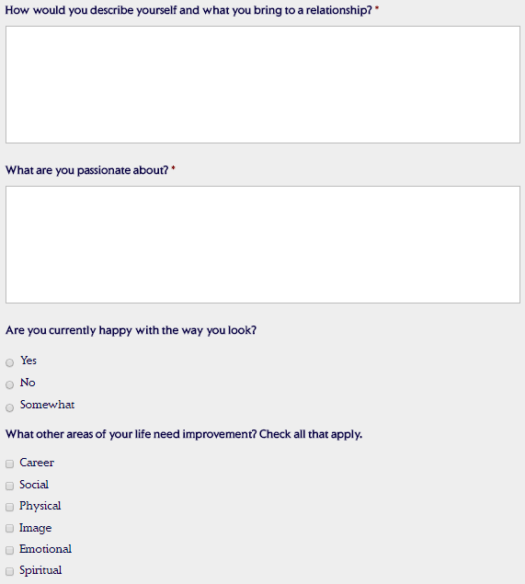 Next is a face-to-face interview where you'll discuss your relationship goals, including what's worked and what hasn't worked) in past relationships.
After the interview, Stellar Hitch will discuss which of their membership packages seems to be the best fit for you. The time frame and number of introductions varies for each client but everything is laid out clearly up front.
When it comes to the introductions, you'll receive a verbal description of your match. They describe it as a "virtual 360 description".
Photos will be provided upon request. But Cristina says they shy away from the "online dating" approach of simply putting the photo and profile information in front of a client for a simple yay/nay.
Several days prior to each scheduled date, you'll receive your match's phone number so you can touch base before the date. After the date, you can discuss feedback about the quality of the match with your matchmaker.
Stellar Hitch Reviews: What Customers Are Saying Online...
Stellar Hitch has both positive and negative reviews in LA.
On Yelp it's got a solid 4.5 stars, with mostly positive feedback like this:
On the other end of the spectrum, a one-star reviewer was not impressed with the service she experienced:
Stellar Hitch has an A+ rating with the BBB, with no reviews or complaints listed.
A Few Points To Ponder
Stellar Hitch is not a large matchmaking franchise. It's a boutique company geared toward more individualized service.
The husband/wife tag team approach to matchmaking might give you an interesting perspective on what traits and behaviors are attractive to the opposite sex on a first date. And you'll probably learn a few pointers from the image consulting that will be helpful in other areas of your life.
Stellar Hitch proudly proclaims to distance itself from online dating. They rely instead on pairing clients with clients, or singles they've scouted out at various events and venues.
Depending on how specific your criteria are for your ideal partner, you could be waiting a long time for a date. If you want to meet someone sooner rather than later, you might want to explore other options.
At VIDA Select, our expert matchmakers let you set the pace. We'll show you each match's profile, complete with pictures. You decide who you're interested in meeting.
Even better, you're in control of how many dates you go on each month. Your ideal partner is out there. Our matchmakers will help make sure the two of you meet.
All it takes to decide if VIDA could be the right solution for you is a quick 20-minute phone consultation.
If you're serious about finding your dream partner and think it wise to explore a Stellar Hitch alternative that could be perfect for you, click here to schedule your complimentary phone consultation!
All product and company names are trademarks™ or registered® trademarks of their respective holders. Use of them does not imply any affiliation with or endorsement by them.
Why Choose VIDA Select?

Since 2009, thousands of clients have discovered true love thanks to VIDA Select's fresh, modern approach to matchmaking – which has finally thrown blind dates and long-term contracts out the window. This isn't your grandmother's matchmaking!
Instead of working with a single matchmaker using a small rolodex of potential partners, VIDA Select's matchmaking team taps into the world's largest database of available singles. We'll quickly identify the matches who check all of your boxes so you can finally experience true chemistry. Are you ready to become our next success story? Schedule your complimentary consultation now by clicking the button below!
Get Started Now