I hope you enjoy reading the blog post.
If you want my team to just do your Tinder for you, click here to chat with me.
12 Tinder First Message Examples (That Actually Work!)
Attractive women on Tinder don't lack for choice. They can be uber selective when it comes to responding to first messages from interested guys.

The good news is you have a match you want to start a conversation with. The bad news is a lame Tinder opener like "Hey" isn't going to cut it, and neither is "Hi, how are you doing?"
That's probably why you're looking for Tinder first message examples, right?
You're about to get 12 examples that even the hottest local women won't be able to resist.
You'll also get some expert tips on what makes each icebreaker effective, so you can try your hand at writing some of your own!
How do we know so much about what works on Tinder? Simple - from years and years of experience using it! VIDA Select's dating experts have sent hundreds of thousands of Tinder messages on behalf of the clients we represent, so we know what makes a great conversation starter. In fact, we've been using Tinder daily since it launched in 2012!
Now you can put all that hands-on expertise to use for yourself, right now.
Creativity In A Tinder First Message Gets You Noticed
… and boring gets you an empty inbox.
Your opening message is her first impression of you.
Tinder First Message Example #1: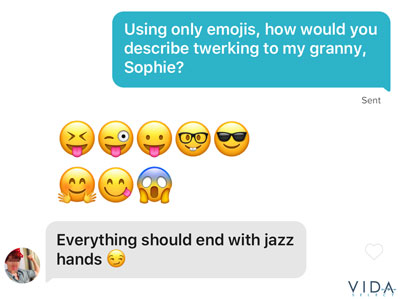 If you don't make a good one right out of the gate, she's got zero incentive to believe things will improve if she decides to start a conversation with you by responding.
But when you ask her an imaginative question that's actually fun to answer, the odds are much higher she'll take the time to respond.
Tinder First Message Example #2: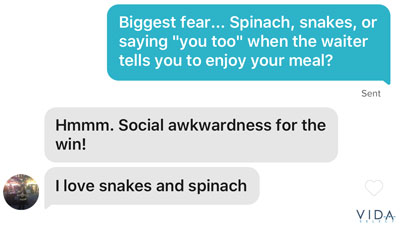 Tinder First Message Example #3: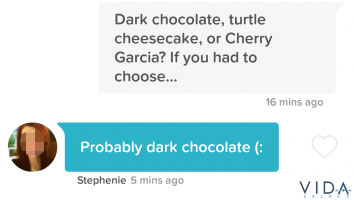 See why those Tinder conversation topics instantly stand out in an inbox that looks something like this?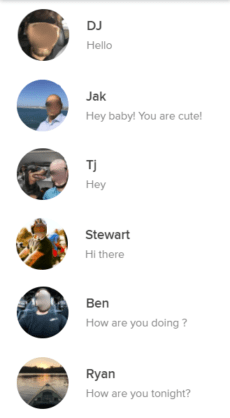 On average, women in their 20s-30s log on to dating apps around 10 times a day, spending just under 8 minutes per session.
If your opening line doesn't immediately command her attention, you're most likely going to get lost in the shuffle with all the other lame pick-up lines she gets on the daily.
The Art Of The Compliment
You've probably learned the hard way messages starting a conversation with "Hey baby, nice [fill in the blank]" don't work very well.
Attractive women generally know they're attractive. Your Tinder match doesn't need yet another guy pointing it out.
Pairing a low-key compliment with an unexpected, funny question like in this example is one way to go.
Tinder First Message Example #4: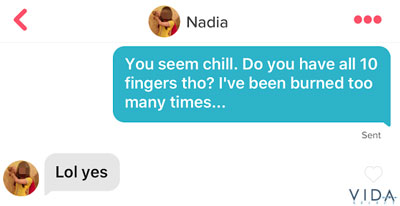 Or if she has a photo of her dog or cat in her lineup, you can give your message a surprising twist by focusing on her pet's good looks, rather than hers.
Tinder First Message Example #5: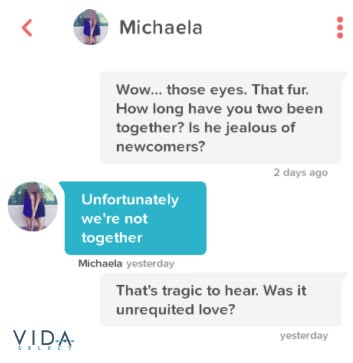 Or simply let her know your interest runs deeper than just her physical appearance. Invite her to share a story or something else about herself with you.
Here are 3 great questions you can send as a first message on Tinder: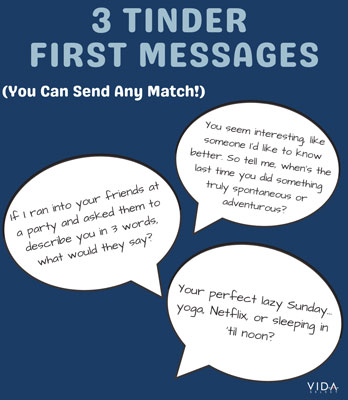 The human brain is wired in such a way that it literally feels good to talk about yourself. So put science to work for you in your Tinder opening line!
When responding to your message makes her feel good, you're that much closer to getting her number or a date.
GIFs Are Your Tinder Superpower
Few women are immune to the charms of an adorable puppy. Use that to your advantage on Tinder!
Simply pair a GIF of a puppy waving hello with your favorite Tinder icebreaker, and you're golden.
With so many GIFs to choose from, it's easy to find one that ties in with your conversation starter.
And here's the real advantage of using a GIF to start a conversation:
If Tinder's internal data is to be believed, she's 30% more likely to respond to your message when it includes an animated element.
Here are 3 dynamite pairings:
GIFs are also a great way to revive a conversation that stalled, or to send as a playful follow up if she didn't respond to your first Tinder message.
Some GIFs instantly convey your meaning, no message required: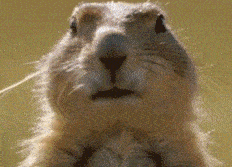 Or you can pair a funny "reminder" message like this one with a superhero GIF: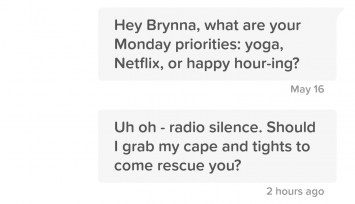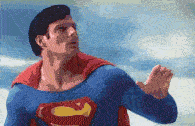 Messages that make her smile are ideal in these situations. Showing off your sense of humor is one of the best ways to spark a connection.
Women are naturally attracted to guys they find funny, so making her laugh is a point in your favor.
If she doesn't respond to your second message, it's generally best to let it go.
If you're *really* into her, send a third. But sending any more than that is a bad idea, since it puts you firmly into desperation territory.
Better to move on gracefully than force her to block you.
3 Common Mistakes That Will Sabotage Your Tinder Convo
The most popular Tinder users have plenty of options. So if you want to get and keep her attention, you can't afford to make any basic strategic errors.
Mistake #1: Not Keeping Up On The App
The last thing you want to do is send one of these great opening lines, then not check Tinder again for a few days.
If you got a response, you've likely already shot yourself in the foot.
Some studies have found that 93% of women only swipe right on the profiles they're attracted to. What better way to extinguish that spark than taking days to hold up your end of the conversation?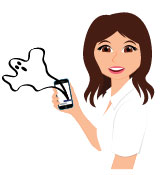 Considering you messaged her to begin with... that's not a great look.
It will be exponentially harder to climb out of the hole you just dug and convince her you're worthy of meeting in person.
That notion of not responding right away so you don't appear over eager are gone.
So when should you respond to a message on Tinder?
These days, 89% of singles respond to a message on a dating app within 12 hours if they're interested - and that's a good rule of thumb to keep in mind.
If she's swiping on Tinder to find a relationship, showing that you're making yourself available and engaged in the process is a sure way to impress her.
Mistake #2: Not Asking A Question In Each Message
This is hands down the easiest way to keep a conversation going on Tinder, or any other dating app.
Your questions provide the direction - all she needs to do is answer you.
When you don't ask a question, you risk creating the equivalent of that awkward pause when neither person knows what to say next.
And the more she gets stuck on how to respond, the higher the risk that she won't.
It's good to have a couple of go-to questions mentally filed away that you can use in a pinch, because you won't find inspiration in every person's profile.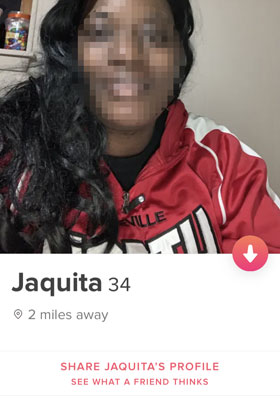 If you need some ideas, check out these great questions to ask a girl you like on Tinder.
Asking fun, creative questions is essential. 83% of singles agree that having a great conversation on a dating app can lead to better real life conversations.
First dates are stressful enough all ready, so anything you can do to boost your odds for success is worth the time, right?
Mistake #3: Not Paying Attention To Spell Check
Net speak and abbreviations are one thing, but outright misspellings and repeated grammar errors are an almost sure-fire way to turn her off.
And if you make mistakes in your messages repeatedly, she may decide she's not that interested in continuing the conversation in person.
It only takes a few seconds to proofread what you've written before tapping send. And while you're at it, give your Tinder profile a once over as well. She'll likely take a second look when deciding whether to meet you IRL.
The Easiest Way To Conquer Tinder
A recent study found that writing great messages was the biggest source of stress when it comes to dating apps.
These 12 Tinder first message examples are a great way to start the conversation with a woman you like. But to get the best possible results you need to figure out which opening lines work best for you.
A lot of factors are at play. Your Tinder pictures and bio have a huge impact, but there's also the age of your matches to take into consideration.
A message that works for an early 20s college girl may induce an eye roll in a late 20s professional who's looking for something more serious.
You can meticulously track each message you send and whether or not it worked, and adjust your strategy accordingly.
This simple worksheet will help calculate your response rate.
Or you can skip past the time consuming part, and just go on dates with high-quality matches instead. VIDA's team of Tinder experts will do everything for you, from choosing your most attractive photos to writing an attention-getting bio.
Our professional writers will even handle all the messaging! We've been outsourcing Tinder for guys like you since 2009, so we know what works - and what doesn't.
Why waste all that time figuring it out for yourself, when you could be going on dates with attractive, intelligent women instead?
Click here to get started!
Want us to do your online dating for you?

Hey, I'm Ally, VIDA Select's Director of Matchmaking.
We take all the frustration, hard work and hassle out of modern dating!
Imagine your very own Dream Team of highly skilled dating experts searching for the very best local matches, sparking their interest, and arranging all the dates for you.
Wouldn't it be nice to finally stop swiping and start dating higher quality matches so you can meet someone special?
We've helped thousands of singles just like you since 2009, and we're ready to make you our next success story!
What are you waiting for? Take the next step now…
See If You Qualify