I hope you enjoy reading the blog post.
If you want my team to just do your Tinder for you, click here to chat with me.
Tinder Incognito Mode Explained [How To Hide Your Profile!]
Want more control over who sees your Tinder profile? That's exactly what Tinder incognito Mode gives you.
Keep reading for all the details you're looking for, like how it works and what it costs!
Tinder Incognito Explained:
How Tinder Incognito Mode Works
When Tinder Incognito Mode is activated, your profile is hidden - but you can still swipe right or left on other users. Whenever you swipe right on someone you're interested in, your profile will then appear in their card stack.
In other words, only the people you Like see your profile.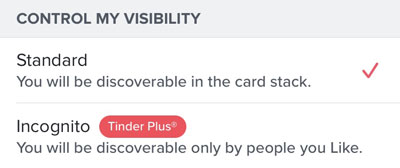 Tinder Plus subscribers have been able to control who sees them for a long time now, but Tinder is highlighting it as a safety feature and gave it a new name. The changes were announced on February 7th 2023, which coincided with Safer Internet Day.
To activate Incognito Mode in Tinder:
Tap the profile icon in the nav bar.
Access the Settings menu by tapping the gear icon.
Scroll down to the Control My Visibility menu options
Tap Incognito
To deactivate Incognito Mode in Tinder, follow the same steps - tapping Incognito Mode again will disable it.
Incognito Mode Price
The Incognito feature comes bundled with Tinder Plus, so it costs around $7.99 for a single month. Investing in a multi-month membership brings the per-month price down:
Incognito Mode/Tinder Plus Subscription Cost*
$7.99 - 1 month
$4.00/month - 6 months
$2.67/month - 12 months
*Cost may vary slightly by location
That's significantly less than it costs to hide your profile on Bumble. Bumble's Incognito Mode is a feature for Bumble Premium users, which costs $44.99 for a single month.
Incognito Mode VS Hiding Your Tinder Profile
Even free users can hide their Tinder profiles just by toggling off "Show me on Tinder" in the Settings menu. No one new will see your profile while it's hidden, but there's a catch:
You can't swipe on anyone when your profile is hidden.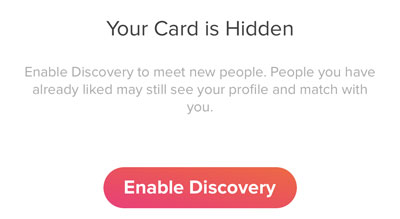 Tinder's Incognito Mode also hides your profile, but then selectively reveals it to whomever you Like as you swipe.
Is Tinder Incognito Worth Paying For?
That depends on a few factors, like whether or not you want to pay for Tinder and how well it's working for you as a free user. If you're struggling to match with compatible singles, or getting no Tinder matches at all, hiding your profile from the masses isn't going to help you get better results.
But if you're privacy conscious and want to spend a few dollars a month for private swiping, Tinder Plus is worth the membership price. A Plus subscription also lets you limit some of the information displayed on your profile, like your age and distance.
There are a few other handy perks too, like Passport, which lets you swipe in any city you want. No daily limitations on right swipes, unlimited rewinds if you swiped the wrong way and ad free scrolling round out the feature list.
Whether you ultimately decide to upgrade Tinder or you keep using it for free, an optimized profile will help you attract compatible matches. Check out our Ultimate Guide To Tinder for all kinds of profile, photo and message advice!
And if you're really serious about meeting someone special, the dating experts at VIDA Select can manage your Tinder profile for you. From swiping and messaging to optimizing your profile and photos, everything is handled by pros so you can just enjoy more dates with better matches!
Want us to do your online dating for you?

Hey, I'm Ally, VIDA Select's Director of Matchmaking.
We take all the frustration, hard work and hassle out of modern dating!
Imagine your very own Dream Team of highly skilled dating experts searching for the very best local matches, sparking their interest, and arranging all the dates for you.
Wouldn't it be nice to finally stop swiping and start dating higher quality matches so you can meet someone special?
We've helped thousands of singles just like you since 2009, and we're ready to make you our next success story!
What are you waiting for? Take the next step now…
See If You Qualify