I hope you enjoy reading the blog post.
If you want my team to just do your online dating for you, click here.
Speed Dating 101: Essential Tips for Instant Connections
If the idea of meeting multiple potential dates over the course of one event seems appealing, you're not alone. Speed dating has seen a sharp rise of popularity over the last few years.
There are multiple pros to this online dating alternative.
For starters, it's efficient - and that's one of the most common reasons why singles say they're tried speed dating. For the price of a ticket, you'll meet anywhere from 10 to 20 potential matches.
And instead of the few microseconds you take to swipe through each profile on apps like Bumble, Hinge, and Tinder, you're interacting face to face.
That gives you much richer insight into someone's personality, interests, potential compatibility, and more.
Chemistry happens in person, so speed dating is an effective shortcut. And if you know after 5 minutes that it isn't going to work out… you can simply move on to the next candidate when time's up.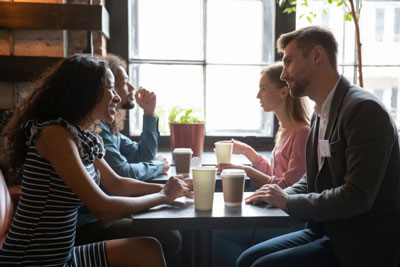 The downside? The idea of 10+ first dates in rapid succession, no matter how short, might be intimidating. What if you can't think of anything to say? How do you keep those jitters under control?
Don't worry - our guide to speed dating has you covered.
Our team of dating experts has been helping singles meet someone special for over 14 years, and we've coached countless clients on how to present themselves effectively on speed dates.
Whether you're new to the scene or a seasoned speed dater, this short guide will help you navigate speed dating events with confidence.
Speed Dating 101: Table Of Contents:
We'll give you the best ins and outs of speed dating, address the most common concerns, and equip you with expert insights so you can make the most of your speed dating experience and find that romantic spark!
Ready to unlock the secrets to successful speed dating? Let's dive in!
How Speed Dating Works
While there is an array of different types of speed dating events, they're all structured in much the same way.
An equal number of men and women rotate through a series of short one-on-one dates that last between 3-10 minutes.
These brief encounters generally take place at assigned tables. Women often remain seated at their designated table while men rotate to each new seat, across from the next woman.
You'll hear a signal at the end of each mini-date – sometimes it's a bell or a buzzer – to prompt participants to move on to the next potential match.
How Do You Keep Track Of Everyone You Meet?
Speed dating is a time-efficient way to meet a large number of singles in a relatively short amount of time, but how do you keep track of who you felt chemistry with?
Organizers typically provide a scorecard or note-taking material for participants to jot down their first impressions. This helps participants determine their level of interest in their dates.
At the end of the night, the organizer might collect these scorecards, or provide access to an app where you select the people you'd be interested in matching with.
Once all the results are correlated, the organizers notify participants of their matches and provide contact information.
Pro Tip: When you receive your matches, consider it a "strike when the iron is hot" situation and reach out. Don't make the mistake of waiting for a match to make the first move, because she may be waiting for you to do it.
Don't worry about appearing overly eager, the whole point of going to a speed dating event was to make connections. You're likely not her only match, so make a good impression and let her know you're interested.
Types of Speed Dating Events
Speed dating events come in all flavors. For instance, they can be tailored to specific age groups, sexual orientations, interests, faith/religion, or communities.
This can help ensure participants have a higher likelihood of meeting singles who share similar values and preferences.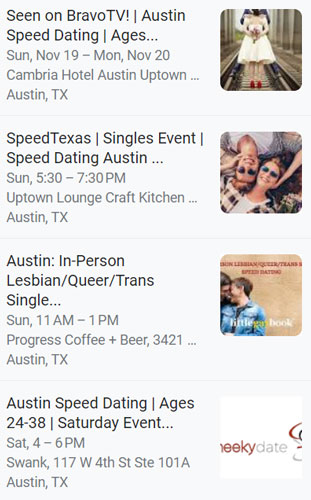 Others are more general, marketing to singles from all backgrounds.
The easiest way to find speed dating events in your area is checking out platforms like Eventbrite. You'll find a plethora of options, both in-person and online.
Virtual speed dating events gained popularity during Covid, with some dating apps even adding it as a feature.
Bumble, for instance, launched Bantr Live in late 2022, which these days is just called Bumble Speed Dating.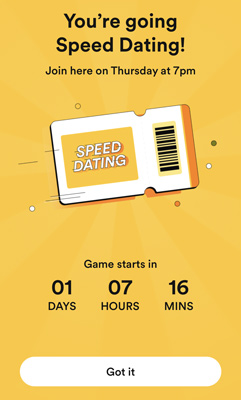 This is a scheduled in-app event that Bumble users can join on Thursdays at 7 PM. Each round pairs users up for 3-minute dates where you can exchange messages. The catch? You won't see their photo until your time is up.
Tinder has a similar message-based speed dating feature, called Hot Takes.
The League offers video dates via their speed dating feature, called League Live.
Is Speed Dating Free?
Most of the time the answer is no.
Speed dating events can vary in price depending on the size, venue, organizers, what's included, etc.
Generally the price range falls between $20 - $50 per person, with virtual events typically being lower cost or even free.
Speed dating events that command a higher ticket price tend to offer perks or amenities such as cocktails, appetizers, and an upscale venue.
Sometimes they also provide personalized matching services or follow-up support packages, which contributes to the higher cost.
Your geographic location can influence pricing, for instance speed dating in Boston may cost a bit more than speed dating in Atlanta.
Get accurate, up-to-date event costs by checking with local event organizers, dating agencies, or online platforms that specialize in these events. They can provide more details for your specific area.
5 Expert Speed Dating Tips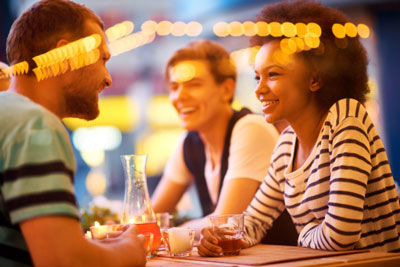 Nothing calms first-date jitters more than a sense of confidence.
Here are 5 tips from our resident speed dating expert to help you navigate your event with ease - and get more matches!
#1: Plan Your Answers To Common Questions
Similar to how you prepped for your last job interview, having some go-to answers already in mind to some of speed dating's most common questions can help prevent you from feeling caught off guard.
Be prepared to answer questions like, "What's the biggest challenge you've overcome?" and "What are you most proud of in your life?".
Don't worry, we're not telling you to memorize your answers. In fact, coming off as scripted is not going to be a point in your favor. Just have a general idea of what you want to convey about yourself, kind of like an elevator pitch.
#2: Have A Few Go-To Questions At The Ready
Depending on who organized the event, you may be provided with questions - or you may need to come up with your own. Coming up with interesting questions on the fly isn't always easy, so have a few in your back pocket.
Here are 3 great questions to ask during a speed date that will help you stand out:
If you were going to become really close friends with someone, what are 2 things you would want them to know?
So tell me what's something that surprises people about you when they first hear it?
What's one of your hidden talents that doesn't easily come up in conversation?
#3: Get There A Little Early
Familiarizing yourself with the venue can help boost your confidence and calm your nerves.
Plan to arrive a few minutes early to take a look around, maybe even have a drink from the bar (if there is one). Chatting with the bartender or those mingling nearby can help you relax and transition into social mode.
#4: Nail Your Approach
First impressions are near-instantaneous, and in speed dating every second counts. When you're first approaching your new potential match, give her a big smile and maintain strong eye contact. This will help her relax and feel comfortable when talking with you.
#5: A Light Touch Can Make A Strong Impression
Creating light physical contact can increase your connection and differentiate yourself from the other guys she's met. Consider offering a handshake or a hug when you first introduce yourself.
Just be mindful - and respectful - of her comfort zone. If she's obviously not enthused about the prospect of a hug, don't push it.
3 Ways To Combat Speed Dating's Most Common Challenges
Still a little stressed out about the prospect of speed dating? We've got you covered.
Our resident speed dating expert has overcome all of them - and helped clients do the same!
Here are the 3 most common speed dating pitfalls, and what to do to avoid them.
#1: Not Knowing What To Say
The clock is ticking, and if casual conversation isn't your strong suit it's easy to feel overwhelmed.
If you're not sure what to talk about, keep the FORD model in mind:
F - Family
O - Occupation
R - Recreation
D - Dreams
Sticking to topics that revolve around these four areas can help you get to know your date better, and it's areas most people are comfortable opening up about.
Having a general direction for the conversation will also help you avoid falling into this common trap: Tuning your date out while you think of what you want to say next.
Active listening is a dating skill that's crucial to develop. Be present and truly hearing what she's saying demonstrates interest that she's likely to reciprocate.
Now that you know what to ask about, make sure you also put a little thought into what you want to communicate about yourself. For instance, it's virtually guaranteed they're going to ask about your job. 
Instead of repeating the same boring answer, like "I'm in accounting", have a few prepared anecdotes describing what you love about your job, what drew you to that career, etc.
#2: The Competitive Angle
Speed dating is a competitive atmosphere. Just like on the apps, there are only so many intriguing women and multiple men vying for their attention. That's inherently stressful, but focusing on the aspects you can control will give you a confidence boost.
As we've talked about, prepping some questions and answers beforehand will help you maintain a smooth conversational flow. Arriving a few minutes early will help you get into the rhythm of the event.
And here's another gem of advice our dating expert uses with great success:
Dress 10% better than the other guys do.
Now of course you won't have any insider's knowledge on what they're planning to wear. But what you can do is scope out the venue beforehand, see what the dudes are wearing, and dress just a little bit nicer than that.
#3: Fear Of Rejection
There's a common misconception that participants will be rejected immediately when they sit down, potentially multiple times.
Let's clarify that!
Generally, you won't know until after the event whether or not someone wants to match with you. Even in the scenario where you - or your date - may not be feeling it from the get go, you'll still engage in a few minutes of casual conversation.
And if it turns out that you later find out there was no mutual interest, don't throw in the towel. Speed dating is one of those activities most people find get easier with time. Give it a few goes, and if it ends up not being your cup of tea, that's okay.
Want us to do your online dating for you?

Hey, I'm Ally, VIDA Select's Director of Matchmaking.
We take all the frustration, hard work and hassle out of modern dating!
Imagine your very own Dream Team of highly skilled dating experts searching for the very best local matches, sparking their interest, and arranging all the dates for you.
Wouldn't it be nice to finally stop swiping and start dating higher quality matches so you can meet someone special?
We've helped thousands of singles just like you since 2009, and we're ready to make you our next success story!
What are you waiting for? Take the next step now…
See If You Qualify