I hope you enjoy reading the blog post.
If you want my team to just do your online dating for you, click here.
10 Best Alternatives To Online Dating [Find Love Without Swiping!]
When you're having no luck on dating apps, swiping becomes an exercise in frustration that leaves you wondering how to date without using online dating.
And you're far from alone. 90% of singles under 24 are so frustrated with dating apps they're on the hunt for alternatives to online dating. And older singles are in much the same boat. The majority say they're fed up with ghosting, catfishing, matches who flake on dates... the whole 9 yards.
Time to put down your phone, and try one of these 10 best alternatives to online dating!
You'll also get an expert dating tip for each alternative, so you can boost your odds of finding love IRL.
#1) Speed Dating
Speed dating has been around since 1998, having started when a rabbi in LA invented an efficient new way for singles to meet each other at a Jewish matchmaking event he had organized. 
Fast forward a couple decades, and speed dating is still a popular online dating alternative.
How Speed Dating Works
Depending on which company is hosting the speed dating event, the format may vary slightly. But in general, you can expect to meet anywhere from 7 to 15+ singles in rapid succession over the course of an hour or two.
Women usually remain seated while an equal number of men rotates down the line. You'll have anywhere from 2 to 7 minutes to get to know someone before the timer goes off and you meet the next person.
Everyone keeps track of who they're intrigued by, and turns in their "picks" at the end of the event. Whenever there is mutual interest, the organizers will provide you that person's contact information and vice versa.
Many companies now offer video speed dating as well, and even some dating apps like The League have incorporated it as a feature. League Live gives users the chance to go on 3 2-minute video dates twice a week.
Speed Dating Cost
How much speed dating costs depends on the company hosting the event, where you live, the venue, etc. But you can safely expect to spend anywhere from $25 to $50+ each time.
If they're not virtual, speed dating events are often hosted at a bar, coffee shop or similar venue. Participants are generally required to pre-register and pay before the event, as having an equal number of singles is important.
How To Stand Out While Speed Dating
This alternative to online dating can be a fun way to meet interesting people, provided you go into it with the right mindset. A little prep can pay off with increased confidence, and that's always an attractive look.
Expert Dating Tip: Have A Few Go-To Questions Prepped
While it's great when you instantly click with someone and the conversation flows naturally, that doesn't always happen. And a handful of minutes can seem like an eternity when neither one of you knows what to say.
Small talk staples like "So what do you do for a living" provide useful information, but won't make you memorable. On the other hand, getting too creative or obscure can backfire when you ask a question that's really hard to answer.
Time is limited (that's the whole point), so asking engaging, fun questions that are easy to answer is the key to success.
Here are 5 great speed dating questions to get you thinking in the right direction:
#2) Join An Event Group
Event groups are the perfect way to meet new people who are interested in the same things you are.
You may have encountered a feature like that on dating apps like Facebook Dating, where you can match with people interested in the same topic or upcoming event.
But there are many companies out there who take that concept even further, facilitating virtual and in-person events ranging from wine tasting and cooking classes to zip-lining excursions and adventure tours.
Here are two great options to consider:
Events & Adventures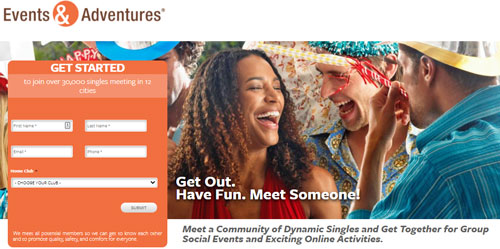 Events & Adventures is one of the more popular options when it comes to event-based dating, and being single is a requirement.
It's been in business for over 3 decades, and what they call "dating clubs" in 12 cities around the US. But if you don't happen to be in one of them, you can still register and participate in the virtual events.
The cost to join Events & Adventures varies depending on the city. It's typically between $100 and $200 a month. It's a dating service, so you'll sign a contract for a 1 or 2 year membership.
You'll also pay for the events themselves, as that's not included in the membership price.
Members usually have anywhere from 30 to 50 events to choose from each month. Space is limited, so you need to register for whatever interests you before it fills up.
A typical event has anywhere from 20 to 40 singles attending, unless social distancing restrictions require a smaller number.
For even more details about this online dating alternative, check out this Events & Adventures review.
Meetup
Meetup.com is another popular platform, however it's not built around dating. Anyone who wants to expand their social network or learn something new can join.
You sign up through the website, browse through the categories, and participate in whatever interests you.
Unless you join as an organizer (meaning you create a group and plan events yourself), joining Meetup is free. Depending on which groups you join, you may pay dues or an event fee. Meetup allows users to exchange messages via the platform.
Launched in 2002, the company is headquartered in NYC but you'll find Meetups in large cities all over the world.
One of the whole points of joining an event group is to get a little out of your comfort zone by trying something new while meeting like-minded people. To make the most of that opportunity…
Expert Dating Tip: Leave Your "Type" At Home
Our tendency to make split second decisions based wholly on appearance is one of the biggest drawbacks of dating apps. Researchers have found if you're not immediately drawn to someone's appearance, the average dater swipes left in half a second.
The advantage to meeting people at an event out in the "real world," even if it's still via screen, is you have the opportunity to get a sense of someone beyond just what they look like in a photo or two.
Don't immediately rule anyone out just because they don't look like someone you'd swipe right on if you saw them on a dating app. Say hi, introduce yourself, and see what transpires.
#3) Take A Class
This is a great way to combine self-enrichment with the search for your soulmate. And the options are practically endless.
Many gyms offer everything from yoga to kick-boxing to tai chi, so you can find a good option no matter what your fitness level is.
Natural food co-ops and specialty grocery stores often offer cooking classes and live demonstrations, and many libraries and bookstores host writing classes for aspiring authors of all skill levels.
Dabble.co is a great resource for finding interesting classes near you.
Community colleges and universities usually have an extension program that allows non-students to take classes both remotely and in person.
Photography, gardening, learning a new language or taking a first aid course - whatever piques your interest could offer a low-key way to meet new people.
Expert Dating Tip: Practice Making Small Talk
Starting a conversation with a total stranger isn't easy for a lot of people, but the good news is it gets easier with practice.
If you're not naturally talkative, get in the habit of making eye contact with strangers and smiling. Practice making small talk with people you encounter, from the person behind the cash register to the barista making your coffee.
It might feel awkward at first, but that's just because it's not in your comfort zone yet. Soon it will become second nature!
In a class setting, it's even easier because you have a built-in icebreaker. Just ask, "So, have you ever taken a class like this before? This is my first time trying X."
#4) Join A Sports League
Recreational sports are a great way to meet someone without online dating.
Add in the benefits of exercise, stress release and just having fun, and you'll wonder why you didn't join a league sooner.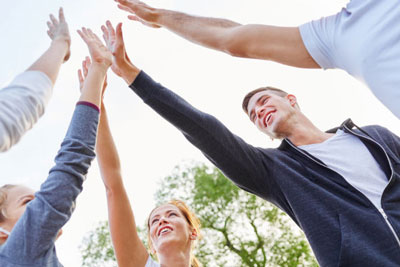 Expert Dating Tip: Be Realistic About Your Skill Level When Signing Up
If you're a beginner, let the organizer know. Different teams have different levels of competitiveness.
You want to find one that's a good match for your skill level so you'll have fun and be confident. A positive attitude is key to seeming friendly and approachable.
#5) Shop At Whole Foods
Matchmaker Maria Avgitidis summed it up nicely when she mentioned Whole Foods was a great place to meet someone.
Not only are there so many good looking people wandering the aisles, "You know they have a good pay check or else you can't shop there."
Julia Bekker, another NYC matchmaker, also said Whole Foods was one of her go-to places to find high-quality matches for her clients.
Expert Dating Tip: Take A Page From The Mindfulness Playbook & Be Present In The Store
No matter where you happen to be shopping, take the time to notice the people around you. It's easy to get laser focused on what you're there to buy, and 'get in and get out.'
Slow down, look around, and most importantly - smile.
Anthropologist Helen Fisher identified smiling as a universal sign of flirtation and attraction, and it's one of the best ways to start a conversation.
Resist the temptation to stare at your phone while waiting in line. Not only does that make you look unapproachable, it's a distraction that may keep you from noticing your perfect match standing 6 feet behind you.
#6) Hit The Dog Park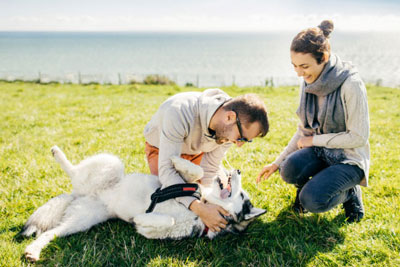 Dogs have a way of attracting attention like a magnet, and according to researchers they make their owners seem more attractive, happy, and approachable. It also instantly conveys you're both nurturing and able to make long-term commitments.
Those are all pretty compelling reasons to take yours out for a walk!
And what better place to meet new people than the one area where dog lovers are guaranteed to congregate? The antics of all those adorable pups enjoying their freedom makes starting a conversation incredibly easy.
Even if you don't have a dog, you can still benefit from the effects of these canine cupids. When you see someone interesting walking theirs, ask what its name or breed is. Most pet owners jump at the chance to show off their furry friend.
Expert Dating Tip: Be Conscious Of Your Body Language
When you're chatting with someone new, try not to cross your arms in front of your chest, put your hands in your pockets, or hunch your back. Those body positions can signal insecurity or lack of confidence.
Research has shown expansive body postures are more attractive than closed or contractive ones when you're meeting someone new.
"Postural expansiveness" is key to being more romantically appealing, so gesture with your arms occasionally or put a hand on your hip. Good posture, such as keeping your shoulders back and your spine straight, also projects confidence.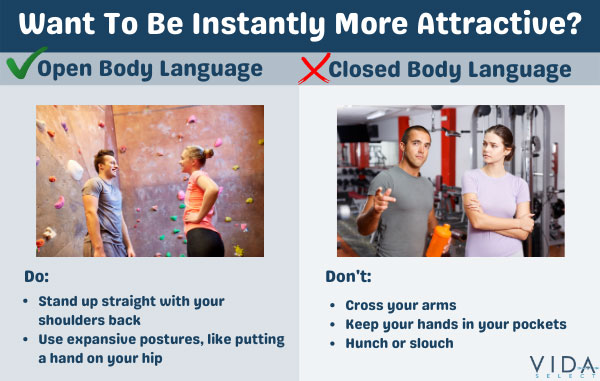 #7) Involve Your Friends
People often have a friend of a friend who's single, but they may feel a little awkward about suggesting a date if they're not certain you're open to help.
Give your friends, family, close(ish) co-workers, church acquaintances, etc. the greenlight to get in on the search, and let them know what type of person you're hoping to meet.
Remind them every once in a while that you're still on the market, but don't be pushy about it. Plant the seed, then let things unfold naturally.
And when someone says they have "the perfect person!" in mind for you, keep an open mind and go meet them.
Expert Dating Tip: Plan A Blind Date That's 2-3 Hours
According to singles surveyed by popular dating site Plenty of Fish, that's the ideal first date length. And while it may be easier said than done, try to relax and just be yourself.
That's what 52% of singles wish more people would do on dates. Check out these 18 first date tips that will boost your confidence!
#8) Join A Professional Networking Group Or Organization
There are many valid reasons why you may hesitate to date a coworker or someone from within your professional network.
Joining a professional organization is a great way to meet career-minded, relationship-material singles, without the potential awkwardness of meeting them in an official work capacity.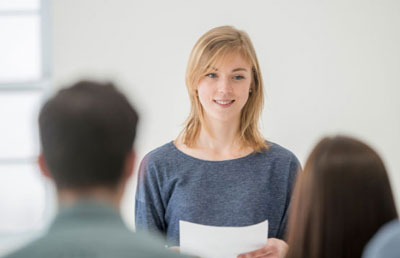 For instance, Toastmasters is the perfect way to meet interesting people and improve your communication skills at the same time. Or your city may have a Rotary Club that pairs people in leadership positions with worthy causes.
Alumni associations or one specific to your occupation are two other easy ways to expand both your social and professional network, and hopefully meet someone special in the process.
Expert Dating Tip: Keep A "Date" Outfit At The Office
One of the main challenges of dating can be finding the time to actually date when you're a busy professional.
If you're meeting for a happy hour cocktail, you may not have time to go home and change first. Keep a "date worthy" outfit at the office, and you'll not only look fresh but it will help you mentally shift out of the work mindset.
The same applies if you're working from home - put some effort into your appearance whether you're meeting someone face to face or hopping on a video chat.
#9) Volunteer
Volunteer opportunities abound in most communities, so if you go this route you'll likely have a ton of choices. The trick is choosing an opportunity that allows you to interact with other volunteers, versus something like answering phones or making deliveries.
If you opt to volunteer at a specific event, manning the registration table is a good way to meet everyone involved.
Expert Dating Tip: Make Eye Contact During Your Conversations
Eye contact is the essential first step in sparking any sort of connection with someone you've never met.
But good news if you're on the shy side - some researchers believe the eye contract doesn't have to be direct when talking to someone.
"Simply gazing somewhere around the face or head will suffice," the study notes.
#10) Let A Matchmaker Take Over Your Search
Hiring a personal matchmaker is one of the most efficient alternatives to online dating when you're serious about finding a relationship.
It's also one of the easiest - your matchmaker does all the curating for you, based on the matching criteria you provide.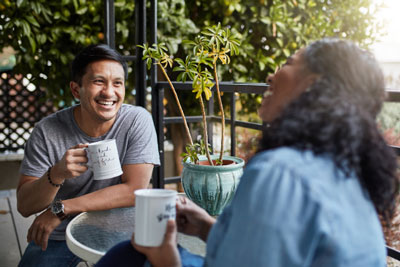 If you're searching for online dating alternatives because apps like Hinge, Bumble and Tinder aren't working for you, VIDA Select is the perfect solution. We do all your online dating for you.
More people are using dating apps and sites than ever before, and it's the most common way for couples to meet now. The potential match pool is huge, which means it's the best source of highly compatible matches for you.
And with VIDA at the helm this time, the odds of meeting your perfect match just skyrocketed. Online dating does work - when you've got the skills and expertise to market yourself effectively to the people you want to date.
Every aspect of your online dating is handled by a team of dating experts, from writing your profile and messages to selecting your best photo lineup based on data analysis.
Say goodbye to swiping forever - your dedicated matchmaker hand-selects your very best matches based on all your 'perfect partner' requirements. You fast-forward straight to the dates with highly compatible singles.
It's the perfect alternative to online dating - find out how it works!
Want us to do your online dating for you?

Hey, I'm Ally, VIDA Select's Director of Matchmaking.
We take all the frustration, hard work and hassle out of modern dating!
Imagine your very own Dream Team of highly skilled dating experts searching for the very best local matches, sparking their interest, and arranging all the dates for you.
Wouldn't it be nice to finally stop swiping and start dating higher quality matches so you can meet someone special?
We've helped thousands of singles just like you since 2009, and we're ready to make you our next success story!
What are you waiting for? Take the next step now…
See If You Qualify