I hope you enjoy reading the blog post.
If you want to chat now about your matchmaking search, click here.
Lyons Elite Review [Can Emily Lyons Find Your Ideal Match?]
Wondering if Emily Lyons and the team at Lyons Elite can help you find your perfect match? Checking out online matchmaking service reviews is a great place to start!
Our expert team has reviewed 200+ matchmaking services, delving into how the service works, success rates, and customer experiences. With over 14 years of first hand industry experience, we know what clients value most when it comes to matchmaking.
Lyons Elite Review Table Of Contents:
From how Emily Lyons got started as a matchmaker to how the service works, this review has all the details you need to help you decide if she's the right choice for you!
Meet Emily Lyons: Model, Matchmaker, Entrepreneur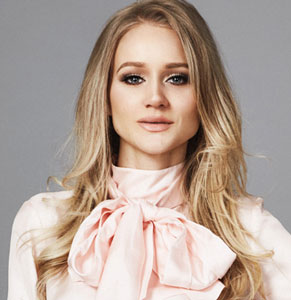 Emily Lyons began her journey in entrepreneurship at a young age. When she returned from Australia after a brief stint as a nanny, she found herself in need of income. She held several jobs before diving into promotional modeling in Toronto.
Her passion for the modeling industry inspired her to open her first business at age 23, Femme Fatale Media.
As she shared in an interview, she quickly became known for her ability to scout "the perfect combination of beauty and brains." This reputation led to singles consistently reaching out to her for help with dating.
As a result, Lyons made the natural transition into matchmaking as a second business venture.
She opened Lyons Elite in 2014, headquartered in Toronto.
Reflecting back on the opening of her company, she shared her thoughts in an interview with Forbes:
"It's probably been my most rewarding company because you're finding people's happiness for them. You're finding them a life partner."
She also credits her late sister Julia as the true source of her motivation and success.
According to Lyons, her sister bought her a book entitled "Career Renegade: How to Make a Great Living Doing What You Love."
The book communicated the message of building a successful life around your passions. After reading only 2 chapters, she was inspired to embrace entrepreneurship. All it took was one final nudge. As Lyons puts it, "Shortly after my sister bought me my first laptop and told me to go for it."
To date, Lyons has established 3 companies - Femme Fatale Media, True Glue Beauty, and Lyons Elite. Her business philosophy is best summed up in her own words:
"Challenging the reality that's been given to you is a basic building block of the entrepreneurial spirit, so I've always had an intrinsically entrepreneurial attitude, but it was a sleeping giant until it really woke up within me in my 20s."
Now that you know how she got started as a professional matchmaker, let's dive into her service.
A Look At Lyons Elite Clientele
Lyons Elite caters to clients worldwide, with a presence in such locations Toronto, New York, Calgary, San Francisco, Vancouver, Montreal, Los Angeles, Dallas, and Miami.
When it comes to her source of matches, Lyons leverages her contacts from her other companies, as well as her personal and professional networks. As she explained to HuffPost,
"When launching the agency, I already had a large database of clients, an extensive social media following, and a network of people who would be interested in being matched with someone."
Lyons Elite's roster is as diverse as the geography it covers. As she shared with Forbes, her clientele is comprised of politicians, Fortune 500 CEOs, lawyers, and doctors from all over the globe. And she says they all have one thing in common…
"They are marriage-minded individuals who are looking for long-term relationships."
Lyons Elite typically takes men on as paying clients. In an interview with Maxim, Lyons explained what type of women men could expect to be matched with:
"A lot of women on our roster are former models that are now professionals such as lawyers, doctors, and teachers. Relationships should be equal if they are to thrive in the long run. No one wants to feel taken advantage of. You need to have similar financial and life priorities."
For women, there is no cost to become an affiliate member. That means you'll be included in the Lyons Elite database as a potential match for her male clients.
What To Expect As A Lyons Elite Client
The initial step to working with Lyons Elite requires you to fill out an application online.
After reviewing the application, their team initiates contact to schedule the intake consultation.
During this call, your matchmaker will dive into your personality, lifestyle, and relationship goals.
This part of the process also lets them determine if you're a good fit for their services, and vice versa. The consultation does incur a fee, but it can be applied towards a matchmaking package should you proceed, or refunded should you choose not to sign up.
Lyons Elite offers a variety of matchmaking packages that vary in terms of duration and geographical parameters. All packages include matches within Canada and the US.
You can choose from the Sapphire (1-month plan), Bronze (6-month plan), and Silver (1-year plan) packages. The Gold package spans a year and lets you work directly with Lyons. And the Platinum package includes an international search.
Depending on the package, added features range from pre-arranged dates to post-date interviews, and a certain number of one-on-one sessions. If you're looking for a little more flexibility, the option to add 'hold time' to a package is available for an additional cost.
How much Lyons Elite matchmaking costs is not revealed online. However, based on similar services you can expect your investment to start around $20,000.
Enamour, for instance, is another elite matchmaking service with a presence in Toronto. They offer international searches with matches hand-selected from an exclusive, invitation-only database.
The Enamour team also searches far beyond it, using both recruitment technology and an extensive scouting network. Enamour's packages start around $20,000.
If you decide to sign a contract and come on board as a Lyons Elite client, your matchmaker will scout through their database for potential matches based on your preferences.
Once a potential candidate is identified, Lyons Elite puts together a brief for you to review. This profile includes details about their educational background, professional life, hobbies, personal interests, religious and political preferences. They also include a photo.
Depending on the level of service you purchase, the first date may be arranged for you, and be followed by an opportunity for feedback on the quality of the match.
Now, let's take a look at what some clients thought of the experience.
Lyons Elite Reviews
Lyons Elite has a 4-star rating on Trustpilot based on 3 reviews.
These reviewers shared that they had a positive experience with the Toronto matchmaking agency:
This woman was also happy with her experience:
Lyons Elite Luxury Matchmaking has a 4.9-star rating on their Google Business profile, based on 60+ reviews.
This client was happy with the matchmaker he was working with:

As was this client:
And this reviewer shared that the staff helped him feel comfortable throughout the process:
Most of the other 5-star reviews spoke highly of Lyons, the team, and the customer service.
There were only two 1-star reviews; one was just a star rating with a response from the service saying they didn't have a client by that name.
The other was from a woman who expressed frustration with the refund policy for Lyons Elite events:
Is Lyons Elite The Right Luxury Matchmaker For You?
Having launched three successful companies, Emily Lyons has made a name for herself as a thriving entrepreneur. But with so many elite matchmakers out there, making sure you hire the best one for you may feel a little daunting.
It will likely all come down to how you feel about the information disclosed during the initial consultation, like the package price after you've discussed any extra features, like pre-arranged dates and post-date sessions, that you want included.
In most cases, luxury matchmakers require payment in full before undertaking your search, although that's not always the case.
VIDA Select, for instance, offers elite matchmaking packages on a month-to-month basis, starting at just $2595. The pricing highly correlates with the number of hours your personal matchmaker will dedicate to your search each month, with packages tailored to your exact requirements.
On average, VIDA clients begin a relationship with someone special after only 3 months of service. To find out more about how VIDA Select can find your ideal partner, go here.
All product and company names are trademarks™ or registered® trademarks of their respective holders. Use of them does not imply any affiliation with or endorsement by them.
Why Choose VIDA Select?

Since 2009, thousands of clients have discovered true love thanks to VIDA Select's fresh, modern approach to matchmaking – which has finally thrown blind dates and long-term contracts out the window. This isn't your grandmother's matchmaking!
Instead of working with a single matchmaker using a small rolodex of potential partners, VIDA Select's matchmaking team taps into the world's largest database of available singles. We'll quickly identify the matches who check all of your boxes so you can finally experience true chemistry. Are you ready to become our next success story? Schedule your complimentary consultation now by clicking the button below!
Get Started Now