I hope you enjoy reading the blog post.
If you want to chat now about your matchmaking search, click here.
Sandra Myers Matchmaker Profile: Is SDS Right For You?
If Select Date Society is on your radar, it's natural to be curious about its co-founder and president, Sandra Myers. After all, if you're going to invest your time and money in a matchmaking service, you want to find the matchmaker who's the best fit for you!
In this quick matchmaker profile, you'll learn how she got started, her matchmaking philosophy, how much it costs to hire her and more!
Sandra Myers Matchmaker Profile Table Of Contents:
Let's jump in with…
Sandra Myers: Relationship Expert & Personal Matchmaker
Sandra Myers has been in the matchmaking industry for over 25 years. She worked for other matchmaking companies before co-founding her own in 2021.
But before all that, Myers started her career at a telecom company in her twenties. During her door-to-door business sales, she began setting up and introducing some of the people she met along the way. One of the women she successfully set up told her that a local matchmaking service was hiring, and the rest is history.
In 1996, she started working for a national franchised matchmaking service. During her tenure, she worked in their DC office, as well as in Miami and North Carolina, before making another switch to LUMA Luxury Matchmaking in 2019.
A year later, Myers launched her own matchmaking service with co-founder Amber Lee. She met Lee (then going by Amber Artis) in 2009, as they both worked at the same matchmaking service. Their goal all these years later? Setting a "Gold Standard" for luxury matchmaking.
As Myers explained in an interview with Star Central Magazine, "We saw what services were out there and we knew we could provide a higher level of service for our clients."
Besides starting a company mid-pandemic, Myers said she and Lee encountered various challenges as they grew their business. One growing pain in particular proved to be technical hurdles.
As she explained in the same interview, "We are matchmakers, so we're used to dealing with people and real-life situations, not tech!"
Sandra Myers' Approach To Matchmaking
As the name implies, Select Date Society is more about quality than quantity. As Myers explains, "Instead of going on 10 dates to meet one great one, we go on the 10 dates for you, and you get the great one."
Myers' approach extends beyond just matching clients with eligible singles based on mutual compatibility. She also encourages clients to think about how they've navigated past relationships and to learn from those mistakes.
As she shared in an interview with DatingNews.com, "We encourage you to think about what's going on in the rearview mirror and using that to change moving forward. We're good at understanding what didn't work and how to correct for that."
For Myers, being a relationship expert and a matchmaker goes hand in hand. Myers and Lee have sessions with each client where everything from how you grew up and your family dynamic to your parents' relationship will be discussed, all as a way to discover patterns, roadblocks or other issues that might be affecting your love life.
Or as she puts it, "We're good at understanding what didn't work and how to correct for that."
Depending on your membership level, as a Select Date Society client you'll also have one or more "insight sessions". These occur after each first date, and are more than just an opportunity to provide feedback about your experience.
Your matchmaker also shares insights from your date about their experience meeting you.
Understanding how the date went from your match's perspective is one of the biggest benefits of hiring a matchmaking service. The feedback you receive will help you adjust how you approach first dates, and make any course corrections as necessary.
Sandra Myers Matchmaking Cost
Hiring Sandra Myers as your personal matchmaker starts at $35,000. That's for Select Date Society's basic membership, called the Concierge Level.
Potential clients fill out a short profile online, and either Myers or Lee will reach out to you for an initial consultation.
If Myers thinks she and her team can help you, and you think SDS is a good fit, you'll go through their onboarding process.
You'll discuss your ideal partner criteria, screening questions you'd like asked, and more. With an entry level membership, you won't get final approval of each match before the date is scheduled. The SDS team approves the matches for you, and arranges the date.
If you want more control over who you meet, you'll need to opt for the more expensive Platinum Level contract. You'll get final approval of all date selections, and a post-date insight session after each first date.
There's also the Executive VIP level, where you'll work directly with Myers, Lee and the VIP matchmaking team.
Is Sandra Myers The Right Matchmaker For You?
There is no denying Sandra Myers has plenty of matchmaking experience, and over the years she's developed a formula that's clearly working for her.
But the million dollar question is whether her company is the right choice for you. Making that decision comes down to how you feel about some aspects of the service, like whether or not you're in full control over who you meet - and what it will cost.
Select Date Society's services start at $35,000 and range far north of that for the premium packages. That's not unusual. For instance, Janis Spindel's luxury matchmaking service starts at $50,000 to work directly with her, and can top a cool million depending on what level of matchmaking you want.
Amy Andersen of Linx Dating charges a minimum of $45,000 to help Silicon Valley singles find love.
But there are some matchmaking services who offer a high level of exclusivity for a fraction of the price. Enamour, for instance, starts at $15,000. That includes matches from their invite only database, as well as sourced via a sophisticated scouting and screening process.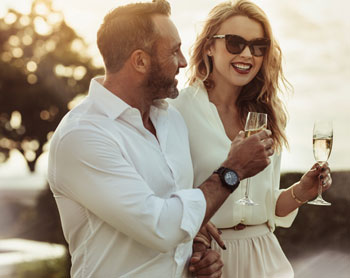 VIDA Select's elite matchmaking services start at just $2395, with the convenience of offering monthly packages. That means you're only paying for the time you actually need service, rather than committing to a long-term contract.
And with VIDA, you're always in control of who you meet. You can approve or decline all your potential matches, based on profiles and photos. That means you can look forward to better first dates with singles you can't wait to meet.
Want to discover how VIDA Select will work for you? Just click here!
All product and company names are trademarks™ or registered® trademarks of their respective holders. Use of them does not imply any affiliation with or endorsement by them.
Why Choose VIDA Select?

Since 2009, thousands of clients have discovered true love thanks to VIDA Select's fresh, modern approach to matchmaking – which has finally thrown blind dates and long-term contracts out the window. This isn't your grandmother's matchmaking!
Instead of working with a single matchmaker using a small rolodex of potential partners, VIDA Select's matchmaking team taps into the world's largest database of available singles. We'll quickly identify the matches who check all of your boxes so you can finally experience true chemistry. Are you ready to become our next success story? Schedule your complimentary consultation now by clicking the button below!
Get Started Now