I hope you enjoy reading the blog post.
If you want to chat now about your matchmaking search, click here.
Top List: 4 Best Santa Barbara Matchmakers For Local Singles
Looking for Santa Barbara matchmaker recommendations? You've come to the right place! This list of the 4 best Santa Barbara matchmakers will help you narrow your search down.
It includes essential details like matchmaking service cost, process, and how long they've been in business.
Matchmaker: Lisa Amador
Not only is Lisa Amador one of Santa Barbara's most elite matchmakers, she's also a published author.
She was one of the experts who contributed to Sexy Secrets to a Juicy Love Life, a relationship self-help book for women. Her dating agency was formerly called Santa Barbara Matchmaking, and recently rebranded.
Clientele
She primarily helps relationship-minded singles in the Santa Barbara area. But her matchmaking network extends throughout all of California.
Cost
It's free for both men and women to include a profile in Amador's database.
However, as a "free" member, you may or may not ever be matched with a paying client. Free members who purchase a date coaching package or attend a workshop receive "VIP" status in the database. So they are considered as a match for paying clients first.
Matchmaking service packages start at $3,500. The price increases if you want to meet singles outside the Santa Barbara area.
What To Expect
Becoming a paying client starts with an in-person, 90-minute(ish) interview. Once you've signed a contract, you'll be matched with Santa Barbara singles from the Amador database of 1,000+ free and "VIP" members.
You'll receive a phone call with a description of each potential match. If you're interested, your matchmaker arranges the date for you. Afterward, you'll have the opportunity to let her know how you think it went. You'll also get any constructive feedback as to what your date thought about you.
Founded In
2011
Matchmaker: Simona Fusco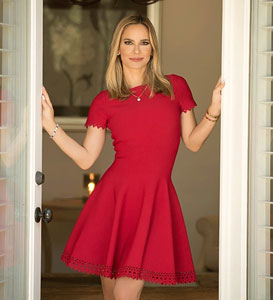 An actor/model and now elite matchmaker, it's no surprise if you think Simona Fusco looks vaguely familiar. She's a truly boutique matchmaker, in that she only takes on a very limited number of clients each year.
Fusco runs her matchmaking service out of Beverly Hills, but she has established a presence in Santa Barbara as well.
Clientele
She generally works with successful women, 20s to mid-50s, and affluent men who are typically in their 30s to late 60s.
Cost
Women can join as an "Affiliate" for free by submitting a profile via the website. Assuming they pass the screening process, affiliates will be interviewed and then added to the Perfect 12 database of around 200,000 singles.
Men who want to purchase matchmaking services pay $2,500 for an initial consultation with Fusco, and then choose from 3 membership levels: Gold, Platinum, and Carte Blanche.
Pricing is kept confidential, but based on other luxury matchmakers like Janis Spindel, you can expect Fusco's services to start in the neighborhood of $25,000, and possibly run as high as $250,000.
What To Expect
Once you've signed a matchmaking service contract, Fusco and her matchmaking team will spend the first few weeks getting to know you.
When they're confident they "get" what you're looking for, you'll be presented with potential matches from the national database. Fusco also has a team of recruiters who will scout for compatible singles in cities you're interested in dating.
Founded In
2005
Click here for a Perfect 12 review.
Matchmakers: JoAnn & Steve Ward
They're a national matchmaking service, but this mother/son matchmaking team has an office in LA and a strong presence throughout Southern California - including Santa Barbara.
Clientele
The Wards work with both men and women as paying clients.
Cost
Matchmaking packages start at $2,500, which also includes date coaching. Your final price is dependent on how much coaching you require, who your coach is, how many introductions you'd like, and how many matchmakers you want on your team.
What To Expect
The first step is a consultation, during which you'll pay a $450 non-refundable "Qualification Fee". If you decide to move forward, that payment is applied to your matchmaking package price.
You'll be matched with compatible local singles from the Master Matchmaker's database until you've had the number of introductions agreed upon in your contract. You can also review an unlimited number of profiles.
Whenever you're intrigued by a match, contact info is swapped. That counts as an "official" match against the total number in your contract. If you hit the match limit, you can purchase more.
Founded In
1990
To learn more about Master Matchmakers, check out this matchmaking service review.
Matchmaker: Scott Valdez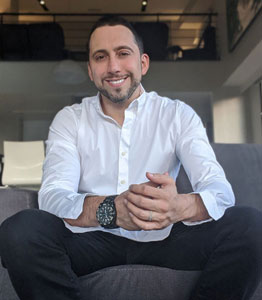 Want to meet incredible SB singles, but you're a little hesitant to commit to a contract and pay for matchmaking services in full, upfront? VIDA Select's pay-as-you model should put your mind at ease.
Because you pay for each month you'd like matchmaking services, there's no contract required.
Clientele
Successful singles, typically in their 30s to early 60s.
Cost
VIDA Select offers 3 levels of service and a full range of matchmaking package options. Package price is highly correlated with the number of hours that should be dedicated to the search for matches who check all your compatibility boxes.
The complexity of your "ideal partner" checklist, how many areas you'd like to include in the search for your soul mate and other factors determine which matchmaking package is the best fit for you.
Basic packages start at $995 a month. Premium packages begin at $1595 a month and Elite options start at only $2395 a month.
What To Expect
Potential clients first have a confidential, free phone consultation with a matchmaker that takes about 20 minutes. If both you and your matchmaker feel like VIDA is a good fit, you'll have a longer interview where you'll describe your lifestyle, goals, and what your "perfect partner" is like.
Your dedicated matchmaker will dive into Santa Barbara's largest pool of eligible singles, selecting highly compatible matches for you to review. There's no limit on how many people you can meet every month, and VIDA even schedules the dates!
You have the ability to freeze, stop, and restart your matchmaking service as needed. So you always have the freedom to explore a promising new relationship. In fact, on average VIDA's clients do just that within the first 90 days or so.
Meeting your soulmate in Santa Barbara could be just one click away!
Founded In
2009
All product and company names are trademarks™ or registered® trademarks of their respective holders. Use of them does not imply any affiliation with or endorsement by them.
Why Choose VIDA Select?

Since 2009, thousands of clients have discovered true love thanks to VIDA Select's fresh, modern approach to matchmaking – which has finally thrown blind dates and long-term contracts out the window. This isn't your grandmother's matchmaking!
Instead of working with a single matchmaker using a small rolodex of potential partners, VIDA Select's matchmaking team taps into the world's largest database of available singles. We'll quickly identify the matches who check all of your boxes so you can finally experience true chemistry. Are you ready to become our next success story? Schedule your complimentary consultation now by clicking the button below!
Get Started Now