I hope you enjoy reading the blog post.
If you want to chat now about your matchmaking search, click here.
The Bevy Reviews: Can This Elite Matchmaker Find Your Soulmate?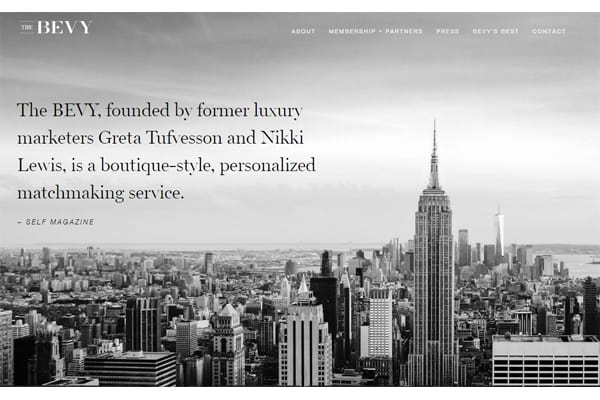 When it comes to finding a Los Angeles or New York matchmaking service, you've got a lot of options. And if you're in the market for an exclusive dating agency that caters to young, educated professionals, then you may be wondering whether or not The Bevy is the service for you.
The Bevy reviews are in - keep reading to find out what this exclusive matchmaking service is all about.
Who's Behind The Bevy?
The Bevy was created in 2014 by Greta Tufvesson and Nikki Lewis.
The matchmaking service is headquartered in two cities, with the founders each overseeing one. Greta heads up Los Angeles operations and Nikki is based mainly in New York. The Bevy also has offices in San Francisco and San Diego.
Nikki became second in command at one of New York's top matchmaking firms at the young age of 24. Greta has a strong background in marketing. Together the two set out to create one of what they describe as the most selective matchmaking services available.
While they claim to almost exclusively accept clients who are personally referred to their service, you can still fill out a short form on their website to request contact:
How Much Does The Bevy Cost?
You won't find any pricing for The Bevy's matchmaking services online.
For men, the cost varies from client to client, and depends on various factors like the scope of your search. But signing up generally requires an initial investment that starts at $25k.
Women can join the service for free, provided they pass the screening process.
For a price, The Bevy also offers its male clientele a wide range of additional services beyond traditional matchmaking. They offer personal shopping and makeovers, life and dating coaching, and fitness and health advice.
What You Can Expect When You Join The Bevy
For both men and women, the first step is to be referred by someone using the service (or fill out the form on their website).
Next comes a face-to-face consultation with Greta Tufvesson and Nikki Lewis.
Be prepared to answer questions about what your experience has been like in past relationships, what you're looking for in a successful long-term relationship, your life goals, etc. Then you'll fill out a lengthy questionnaire, providing information about yourself and what you're looking for in your ideal mate.
Women who are approved are then listed in the database and matched with male clients. Men need to ante up the membership fee, along with any additional services the matchmakers feel you may need, such as a wardrobe overhaul or fitness and diet plan.
Prior to being matched and sent on a date, you'll have another meeting with your matchmaker to go over what you're looking for in even greater detail.
Finally, it's time for your date! But it's important to note that there are no photos before the first date. (Blind dates only.)
The matchmakers say they rely on their instincts and the questionnaire to identify potential matches. You'll receive feedback after each of your dates, as well as coaching and mentoring to help improve any problem areas.
Your membership also includes access to their private singles events, where you'll have the chance to mingle with the women in their database.
The Bevy Reviews
This exclusive dating agency has gotten plenty of positive press. They've had write-ups in Forbes and Observer, and appearances on media outlets like Fox Business.
At the same, there don't seem to be any actual client reviews in New York or LA.
It's generally a good sign when a matchmaking service hasn't made it onto local review sites like Yelp. People who invest in hiring a matchmaking service are far more likely to voice their discontent on the internet than write a glowing review.
Since The Bevy has been operating since 2014, they're likely doing something right.
That being said, there are some potential drawbacks to working with a boutique matchmaking service, especially one with an almost entirely referral-based system. That could result in a limited number of matches since the pool of candidates is likely a lot smaller than you'd find with a larger matchmaking service.
Another Unique Opportunity To Meet Your Soulmate?
With VIDA Select, forget about blind dates! Our team of talented matchmakers share each potential match's full profile and photos with you so you can decide who you want to meet.
Thanks to our unique access to the largest database of high-quality local singles in existence, there's no shortage of great matches for you.
Not only will you be able to selectively choose your own dates from the carefully handpicked matches we present to you, you'll also decide how many dates you'd like to go on each month until you meet someone special.
It doesn't take long for sparks to fly. For the average VIDA client, it happens within just 3 months!
High-quality matches and fast results at a fraction of the price you'd pay at The Bevy.
If you want to make magic happen in your love life, click here to get started with your application.
All product and company names are trademarks™ or registered® trademarks of their respective holders. Use of them does not imply any affiliation with or endorsement by them.
Why Choose VIDA Select?

Since 2009, thousands of clients have discovered true love thanks to VIDA Select's fresh, modern approach to matchmaking – which has finally thrown blind dates and long-term contracts out the window. This isn't your grandmother's matchmaking!
Instead of working with a single matchmaker using a small rolodex of potential partners, VIDA Select's matchmaking team taps into the world's largest database of available singles. We'll quickly identify the matches who check all of your boxes so you can finally experience true chemistry. Are you ready to become our next success story? Schedule your complimentary consultation now by clicking the button below!
Get Started Now