I hope you enjoy reading the blog post.
If you want my team to just do your online dating for you, click here.
Top 5 Online Dating Profile Tips For Guys [Updated 2023]
Does your online dating profile need a boost? This actionable expert advice gets results!
Whether you've had your profile for years or you just started writing it, these top 5 online dating profile tips will attract beautiful, smart women online - and entice them to actually respond to your messages.
Tip #1: Lead With The "Perfect" Online Dating Photo (And Choose The Rest Wisely, Too)
Your first photo is arguably the one that will have the biggest impact on your results. On dating apps where a single swipe determines your fate, it's what will basically determine your match rate.
That's a lot riding on your primary photo, but don't worry. A team of neuroscientists determined the most attractive traits successful Tinder photos have in common - and they'll work just as well on any other date or app.
And here's the really good news - these are tips that will improve anyone's profile pic, no matter what they look like!
Just follow these 4 simple primary photo rules, and you'll be golden: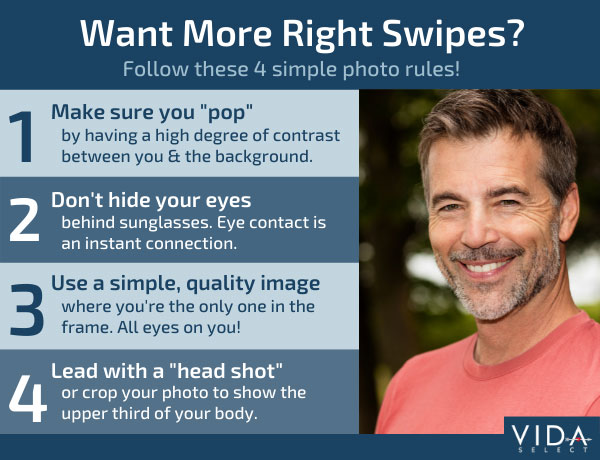 Now that you know how to choose your primary dating photo, let's talk about the rest of your lineup.
Your primary objective here is to look like a guy she wants to spend time with. Give her a glimpse of your personality, your lifestyle and your interests.
Here are a few handy DOs and DON'Ts to keep in mind when choose the rest of your dating profile photos:
DO
Pick photos where you are the center of attention

.

Demonstrate a lifestyle she wants to be a part of

.

Show off your hobbies and interests in your photos - this will make it a lot easier for her to message you!

Use at least 3 photos, but don't go overboard. It only takes one bad photo to prompt a left swipe.

Get feedback from your friends, online at sites like

PhotoFeeler.com

, or turn on Tinder's SmartPhoto or Bumble's Best Photo feature.
DON'T
Post any bathroom mirror ab-shots or half naked photos (they don't work).

Use racy or suggestive photos, as they turn off the majority of women. Even if you're looking for a hookup or casual dating, you still need to attract her first.

Choose all group shots - no one has time for guessing games.

Select photos taken with flash (it adds

7 years

to your age)

.
For even more tips on selecting perfect profile pictures, check out this article.
Tip #2: Little Details Make A Big Impact, So Don't Skip The Badges & Prompts
This is an online dating profile tip that really pays to implement, because specific details spark curiosity and attraction. Details also help move a dating app conversation along by inspiring topics for your match to mention in a message.
Filling out your profile in its entirety has one other important benefit. It demonstrates you care about how you present yourself online, and that you're serious about making a meaningful connection on the app.
Almost all dating profiles have a section or two where you can display additional tidbits of specific information, like hobbies, personal stats, etc.
Depending on the app, you may have the opportunity to select some interests that display as a badge on your profile.
For example, Tinder has interest badges, also called "Passions":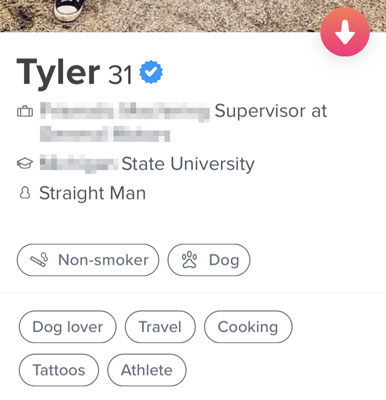 Tinder even takes the extra step of highlighting any of the badges you have in common with a match.
People often connect over shared hobbies. If she's on the fence about matching with you, these little badges could mean the difference between a left and right swipe!
Profile prompts are another way dating apps allow you to share more about yourself with your matches. All you have to do is choose a few prompts you want to use, and your answers are shown in your profile.
For example, Bumble calls them Prompts (formerly Move Makers) and displays them in between your photos: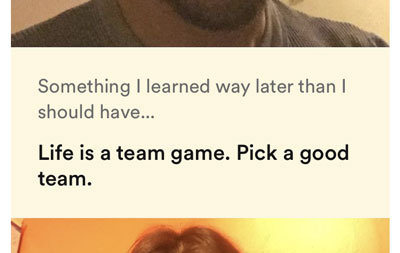 Deciding which prompts to answer on a dating app is a little trickier than choosing interest badges. Much like including one terrible photo, all it takes is one poorly chosen answer to make her swipe left.
This article walks you through how to effectively answer dating app prompts, but for now keep this rule in mind:
Whatever you mention should make you look good.
In the Move Maker example you just saw, his answer raises a potential red flag with most potential matches. How many women want to date a sarcastic guy that will sometimes make them cry, even if he didn't mean to?
Take a quick minute to imagine your ideal woman. What qualities and traits are important to you in a partner? What interests would you like to have in common with her?
Now that you've got your ideal woman in mind, think about what qualities, traits and interests she would likely be looking for in her ideal man.
Here are some qualities most women find attractive:
Financial stability (i.e. good job)
Physically fit
Courageous/brave/adventurous
Nurturing/family oriented
Good sense of humor
Choose prompts to answer that let you illustrate how you embody one of those traits, and you'll be golden.
Tip #3: Go Through The Profile Verification Process (It's Quick!)
Romance scammers raked in an astonishing $1 billion from victims in 2021. And as the FBI points out, that's just what was reported to them. The actual figure is likely even higher.
If you are worried your headline isn't creative enough, don't stress yourself out. This article will tell you everything you need to know about Verifying your profile is a simple way to offer a bit of assurance that you're legit, and many dating apps allow women to filter out unverified profiles.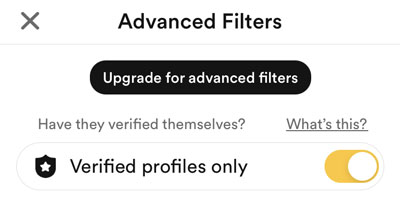 On Tinder, verified profiles have a prominent blue checkmark. Bumble shows a blue badge, and Match has a "phone verified" badge:
Profile verification takes under a minute in most cases, and usually involves taking a quick in-app selfie.
The selfie is then compared to your profile pics, but not displayed as part of your profile. Assuming they match, you're verified.
Tip #4: Write A Winning Profile Using This Easy Formula
Profiles on dating sites like Match, POF and MillionaireMatch have an "About Me" section that gives you plenty of space to write about yourself.
But you can't just ramble, or jot down a quick list of adjectives you'd use to describe yourself. A dating profile is a marketing tool, and you need to go about writing it with a plan in mind.
This 4-step formula will make it easy to figure out what to say you in your dating profile: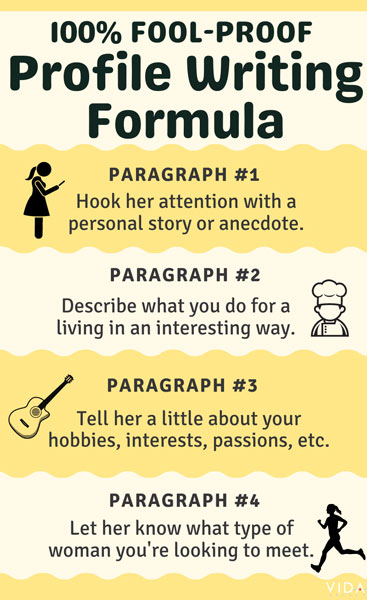 This article shows how to write a winning dating profile in 60 minutes or less.
But for the time being, here are 4 key tips to make your online dating profile more attractive:
Don't just list adjectives and personality traits. Tell stories that illustrate those qualities instead.
Use proper grammar and spelling. You have spell check, so no excuses.
Be authentic, and don't just write what you think women want to read. Studies show women are more attracted to a man who seems genuine.
Make your profile around 70-75% about you, and 25-30% about what you're looking for.
Bonus Pro Tip: When using dating sites like Match.com and OkCupid, refresh your profile regularly. Making small changes to your content or changing up your photos will send your profile straight to the front page of her search results. Click here for expert online dating profile help.
Writing Your Profile Headline
Many dating sites like Plenty Of Fish display a headline alongside your photo in search results.
A lame headline can be an instant attraction killer, so make sure yours is catchy and enticing.
Avoid general greetings or obvious/cliche lines like "Hey", "Headline goes here" and "Looking for my dream girl." Those aren't going to catch her eye, or even worse, will make her roll them.
You'll also want to avoid anything that gives off a negative vibe. Emotions are powerful things, and if your profile gets linked in her mind with experiencing a negative one, your odds of meeting her just plummeted.

You may feel lonely, bitter, or judgemental while you're writing your online dating profile, but the last thing you want to do is let it show.
For the most positive impact, choose a headline that shows you are confident, witty, and have something interesting to offer. Think along the lines of "Open at your own risk" or "Hope you've got a passport."
Make her laugh or make her curious and she'll be more likely to click on your profile.
Want some effective dating headline examples? Put this article in your "must read" queue!
Tip #5: Create A Consistent Identity Throughout Your Entire Online Dating Profile
When a woman looks at your photos and reads your profile, she should be able to create a mental image of who you are.
But if your photos contradict what you say in your profile, chances are she's going to feel like something isn't quite right and move on.
Think of it this way - if your profile says you prefer staying in and relaxing at home on the weekends, but all of your photos are of you out clubbing and getting wasted, she's not going to know what to believe.
And she's probably not going to reply to your message.
Think of a statement or two that you would like women viewing your profile to associate with you.
Something like, "He's a witty businessman who loves to travel" or "He's a sensitive artist that is passionate about skiing".
Next, go through your profile and photos and make sure everything contributes to this image. Or even better, have a female friend go through it and ask for her first impressions.
Or best of all, let a team dating experts do the work for you!
Want An Online Dating Profile That Gets You More Dates - With Higher Quality Women?
Bring in VIDA!
Photos, headlines, catching her attention with your life story… it's not easy to create the kind of profile that attracts beautiful women.
So if you don't have the time it takes to do it right, or you're tired of not getting any dates with the local singles you're interested in most, doesn't it make sense to bring in the team that can make it happen for you?
Our dating profile writers know all the secrets to creating and managing a profile that will get you dates with the women you like best.
But it doesn't stop there. VIDA can also screen your matches, and handle all the message exchanges with all the incredible women you can't wait to meet! In fact, all you need to do is just show up for the dates - it's that easy.
Click here to find out more!
Want us to do your online dating for you?

Hey, I'm Ally, VIDA Select's Director of Matchmaking.
We take all the frustration, hard work and hassle out of modern dating!
Imagine your very own Dream Team of highly skilled dating experts searching for the very best local matches, sparking their interest, and arranging all the dates for you.
Wouldn't it be nice to finally stop swiping and start dating higher quality matches so you can meet someone special?
We've helped thousands of singles just like you since 2009, and we're ready to make you our next success story!
What are you waiting for? Take the next step now…
See If You Qualify