I hope you enjoy reading the blog post.
If you want my team to just do your online dating for you, click here.
Elite Singles vs eHarmony 2023: Which One Is Better For You?
Elite Singles vs eharmony... They're both designed for singles looking for a serious relationship, but both require a paid subscription. So which one is the better choice for you?
In this quick guide, you'll get a head to head comparison in 4 key areas, so you can answer the Elite Singles or eHarmony question. It's time to decide which one is worth paying for!
Use the links to navigate straight to what you consider the most important factor, or start at the top!
Demographics & Popularity
Both of these dating apps were designed for singles seeking marriage, or at least a long-term commitment. But there are slight differences in the target demographic.
Who Uses eHarmony?
You'll find singles of all ages using eHarmony. Around 36% are 18-29, with slightly less than that in the 30 to 49 age bracket. About 25% are daters over 50.
According to the dating site's internal data, the number of men on the site is only 2% more than the number of women.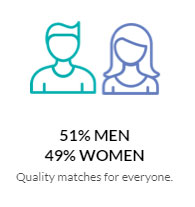 eHarmony is the more mainstream of the two dating apps.
It generally attracts people who are marriage-minded, or at least looking for a committed, long-term relationship, and you'll find people from all different backgrounds on it.
One thing that may be of note to you - compared to dating platforms like Tinder and OkCupid, eHarmony is not particularly inclusive. Gender options are limited to male and female, although it does allow you to search for same sex matches.
However if you're looking to match with men and women, you'll need to create two separate profiles.
eHarmony was founded in 2000 by a clinical psychologist. Neil Clark Warren originally designed the dating site around 29 "dimensions of compatibility," and signing up involved answering a *ton* of questions.
When Grant Langston took over in 2016, his goal was updating the entire brand while still keeping the focus on compatibility over physical attraction. As he explained in an interview with MarketWatch,
A lot of people misunderstand our opinion on physical attraction. We just don't want it to be the primary criteria by which people kick off relationships.
Who Uses EliteSingles?
Marketed as a platform for elite dating, Elite Singles specifically targets successful, career-minded people who are 29 to 50 years old and college educated. 
Per the site's internal data, the 90% of users are over 30, with the majority being 30 to 55 years old. 85% of them are college educated.
Elite Singles was founded in 2008 by the owners of a Berlin-based company, Affinitas. David Khalil and Lukas Brosseder's first dating site was called eDarling, which is still popular in countries all over the world.
Elite Singles is now part of the Spark Networks portfolio. Other dating sites in their network include Zoosk, SilverSingles, Jdate, Jswipe and Christian Mingle. 
As Affinitas CEO Jeronimo Folgueira explained back in 2016,
We are here to connect people who want to find something serious – professionally-minded people who share similar tastes. We aim to match people who have similar education, lifestyles and hobbies. It's more about quality over quantity – we are the most expensive in the market, but we also offer the most premium experience and the best quality profiles.
Like eHarmony, EliteSingles also limits your gender selection to male/female, and you can search for same sex matches.
Elite Singles vs eHarmony: Popularity
When it comes to sheer number of downloads, eHarmony wins the popularity contest: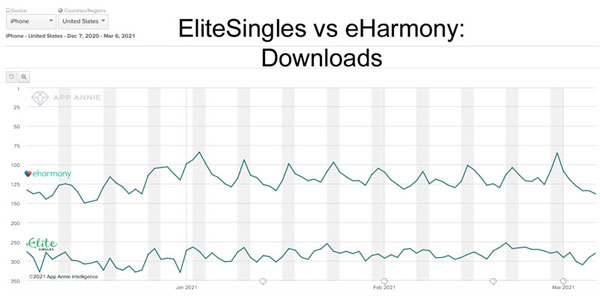 eHarmony consistently had around twice as many downloads as EliteSingles during the same time period.
But let's put those numbers in perspective. When it comes to paid dating apps Match.com is by far the most popular when you're comparing Elite Singles vs eHarmony vs Match: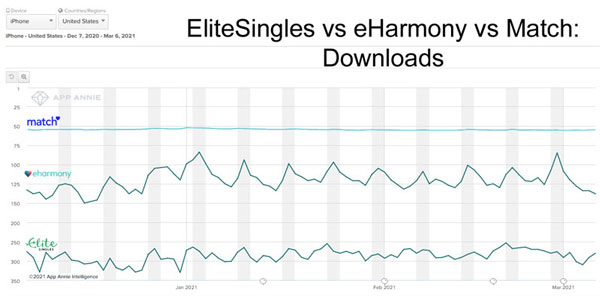 Elite Singles Or eHarmony Popularity & Demographics Winner: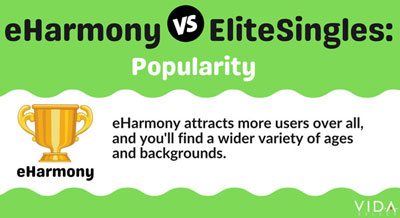 eHarmony is better than EliteSingles when it comes to the overall size of the user pool. That means the odds of finding compatible matches are higher, especially if you're in your 20s or dating over 50.
EliteSingles could work if you're squarely in their golden age demographic of 30 to 50, consider education and career success the most important factors when it comes to compatibility, and prefer to be matched with people who feel the same way.
Just keep in mind you may be on the site for awhile, especially if you're not in an area with a lot of other users.
PRO TIP:
If you're not sure whether a particular dating app is worth your time, use a data analysis site like AppAnnie to get a quick idea of how popular it is.
If a dating app you're considering scores low or doesn't rank at all, that's not to say it won't work. But you'll generally want to use it in conjunction with a more mainstream dating app for the best results.
Further reading: Check out the 5 best dating apps for singles looking for a serious relationship!
Cost & Premium Features
Both of these dating platforms require a paid subscription to see photos of your matches and exchange messages.
eHarmony costs tend to vary depending not only on your location, but also on what specials they're running when you go to sign up.
But generally, you can expect eHarmony to cost somewhere around:
$65.90/month for the 6-month plan
$45.90/month for the 1-year plan
$35.90/month for the 2-year plan
Subscribing to eHarmony includes these benefits:
Unlimited messaging
View photos of all your matches
Search by distance
See who viewed your profile
Detailed personality profile
Regularly updated matches
EliteSingles Cost
You'll also find that EliteSingles often runs membership specials, and you'll generally be offered a discount upon signing up.
But barring any sales or specials (and depending on your location), you can expect a premium membership on EliteSingles to cost around:
$57.95/month for 3 months
$44.95/month for 6 months
$31.95/month for 12 months
An EliteSingles subscription includes these perks:
Unlimited messaging & read receipts
View photos of all your matches
See who visited your profile
Personality test results
Up to 20 extra daily Wild Card matches
eHarmony vs EliteSingles Cost & Premium Features Winner: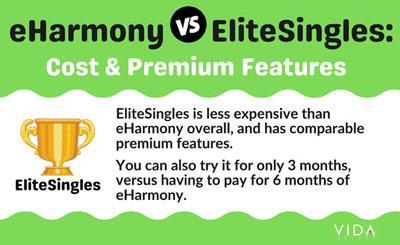 EliteSingles takes "best dating site" in this category. The premium perks both dating sites offer are comparable, but EliteSingles has a shorter membership option if you just want to try it out.
Assuming you don't wait for a discounted membership to come around, you can try EliteSingles for $173.85 (3 months). eHarmony's shortest subscription is 6 months, and will run you $395.40.
Further reading:
The Matching Process
When it comes to the process of finding your matches, both sites use a similar approach that's based on a compatibility test.
And instead of searching the database of users on your own like you can on Match, you'll be presented with a curated feed of matches on both.
That means it's in your best interest to answer the set-up questions accurately, because you can't evaluate profiles on your own. The amount of reflection you put in initially directly affects the quality of the matches you receive.
Interesting Tidbit:
Some researchers believe matchmaking algorithms don't really work when it comes to predicting success in a long-term relationship.
They simply can't account for the life circumstances two people in a relationship encounter over time, and how each person reacts to them both individually and as part of a couple.
As therapist and relationship expert Maria Abramovich told Forbes,
Because so much of how we relate to others is due to our subconscious beliefs, self-reported personality data derived from conscious awareness that is fed into algorithms and regressions on dating websites cannot accurately capture how individuals operate in relationships.
That's one potential drawback to consider when choosing a dating site like eHarmony or EliteSingles that restricts your ability to browse the entire user base for potential matches under your own steam.
eHarmony Matches
On eHarmony, taking the compatibility quiz is the very first thing you're prompted to do after registering - and it's mandatory.
The test takes about 20 minutes to complete. You'll be answering questions ranging from your ideal place to live (i.e. large city, suburbs, rural area, etc.) to what 2 things will make you most interested in someone.
All the questions are multiple choice, with many of them presenting a scenario and asking how you would be most likely to respond in that situation.
For some of the questions, you'll even get a pop message advising you to think hard about your answer because you chose the most popular response.
Other sections of eHarmony's compatibility quiz test how you respond to visual images, like this:
The results are compiled into your personality profile and used to select compatible matches.
You can review some of your results for free, but to browse all the findings you'll need to buy a premium membership.
eHarmony shows you all of your matches at once, and you'll get new ones as they're identified by the matching algorithm.
If you want more matches right away, you'll need to go into your matching criteria and change how they're filtered.
Filtering Your Matches On eHarmony
Your matching criteria include age, height, smoking habit, and children (both whether or not they have them or want them).
Premium users can also filter their suggested matches by religion, ethnicity, income and education.
All users can also filter matches according to interests, music preference, and vacation style preference.
Free users receive matches from within a large geographic region - in the US you'll get matches from all around your state by default, and you can add more states if you wish.
Premium uses can search by distance.
eHarmony Match Score
Each of your eHarmony matches displays a match score.
A 110+ is the best possible score, 100-109 is considered highly compatible, and 60 to 99 indicates a "base level" of compatibility.
eHarmony computes the score based on 4 different areas:
Communication style
Everyday life
How you act in a relationship
Personality traits
Free users will get an abbreviated version of each match's compatibility report, and as a premium user you get a detailed look at how the two of you compare.
EliteSingles Matches
Instead of having access to all your matches at once, on EliteSingles you'll receive anywhere from 3 to 7 matches identified as compatible by the site's algorithm each day.
You can also check out a limited number of daily "Wild Card" matches, which are typically singles who meet some but not all of your preferences.
Just like on eHarmony, the matching process starts with a compatibility test.
In keeping with the dating platforms emphasis on success & education, you'll be asked right away what your education level is, and how important it is to you that your partner be similarly educated.
The EliteSingles compatibility quiz takes a slightly different approach than eHarmony. For many attributes, you choose from a spectrum that ranges from "not important" to "extremely important."
When answering questions about your own personality, the spectrum generally ranges from "doesn't apply at all" to "completely applicable."
There are also visual questions that ask you to select the image that appeals to you most: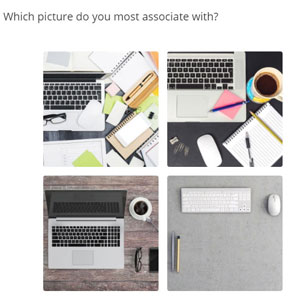 You can also start filling in some of the written sections of your Elite Singles profile, or just skip those parts until later.
Filtering Your Matches On EliteSingles
One of the compatibility questions on EliteSingles is how far you're willing to travel to meet a match: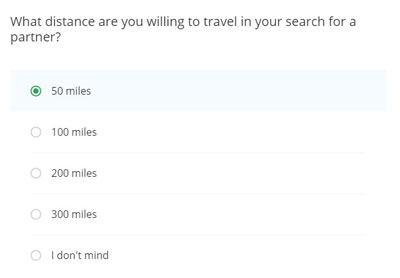 You then further qualify your answer by rating it on the importance spectrum.
But depending on where you live, 5 miles might be a long trip traffic-wise to meet a match, much less driving 50 miles. One of the most common EliteSingles complaints is matches who are too far outside your dating radius.
You can also filter your matches by age, height, desire to have children, education, income, smoking & drinking habits, ethnicity, and religion.
Once you've completed the personality test, you can check out your results in the "Personality" section of your profile.
EliteSingles bases your personality and match compatibility on 5 different areas:
Openness
Conscientiousness
Extraversion
Agreeableness
Neuroticism
To unlock all the information, you'll need a premium membership.
EliteSingles Match Score
EliteSingles takes your test answers and computes a match score so you can see how compatible you are with each match.
You can see where along the spectrum each of your matches falls in those 5 key areas:
Although unlike eHarmony's personality test results, EliteSingles doesn't offer a head-to-head comparison of you and your match.
Elite Singles also advises you not to rule someone out based on a low matching score, encouraging you to "contact anyone who catches your attention."
Elite Singles Or eHarmony Matching Process Winner: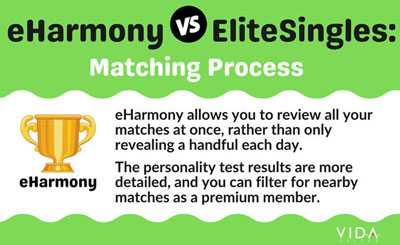 eHarmony is better than EliteSingles because you can review all your matches at once.
And if you're a die-hard fan of algorithm-assisted compatibility matching, you will probably prefer eHarmony's convenient side-by-side test results.
Communicating With Your Matches
Both EliteSingles and eHarmony have one advantage over dating apps like Tinder - you don't have to wait until someone "likes" your profile to send them a message.
Remember, both dating platforms require a premium subscription to exchange messages. But assuming you upgrade, here are your communication options on both sites…
Contacting Your Matches On eHarmony
This dating site requires you to finish at least 55% of your profile to unlock all the communication features, even if you're upgraded.
You can send a "smile" to indicate your interest, but that of course leaves the conversational ball in your match's court. It's generally better to send an icebreaker to get the conversation started.
eHarmony gives you the option to send a "stock" icebreaker, which consists of sending your match 5 pairs of photos. The idea is you both select which one in each pair you prefer, then you can see how closely your answers match.
You can also send a message you write yourself. Ask your match about one of the interests listed in their profile, or use one of these proven openers.
eHarmony also has a built in video chat feature. Just click the video chat icon to send an invitation to your match. Make sure to check out this video dating tips first!
Contacting Your Matches On EliteSingles
This dating platform only has two communication options - you can send your match a smile if you want them to start the conversation, or send a message.
EliteSingles does not have a built in video chat function.
eHarmony or EliteSingles Communicating With Your Matches Winner:
eHarmony is the victor here. The built-in video chatting feature is handy, plus there are more ways to start a conversation with your matches.
Which Is Better: eharmony vs EliteSingles?
The final verdict is in: eHarmony is better than EliteSingles. Even though it's more expensive, the ability to see more matches at a time is better than only getting a handful each day.
And because it's more popular than EliteSingles singles, the odds of finding someone who is compatible with what you're looking for is higher.
But before signing up, ask yourself...
Are You Debating eHarmony vs EliteSingles Because Other Dating Apps Aren't Working For You?
If that's the case, you probably need to adjust your entire approach.
No matter what dating app you're using, your profile, photos and messages need to entice your matches, then keep that spark going until they agree to meet you.
If you don't know how to present yourself in a compelling way that's still natural and authentic, trying a new dating platform likely won't change your outcome - it will just add to your frustration.
Why not skip all that frustration, and just start meeting incredible, compatible people?
With VIDA Select, that's possible. Our team of dating experts handles everything - writing your profile, selecting your best possible photo lineup and even all your messaging,
Plus you'll have a dedicated matchmaker selecting your most compatible matches. It's modern dating, simplified.
All you do is finally start meeting relationship-worthy singles!
Find out how it all works here.
Want us to do your online dating for you?

Hey, I'm Ally, VIDA Select's Director of Matchmaking.
We take all the frustration, hard work and hassle out of modern dating!
Imagine your very own Dream Team of highly skilled dating experts searching for the very best local matches, sparking their interest, and arranging all the dates for you.
Wouldn't it be nice to finally stop swiping and start dating higher quality matches so you can meet someone special?
We've helped thousands of singles just like you since 2009, and we're ready to make you our next success story!
What are you waiting for? Take the next step now…
See If You Qualify