I hope you enjoy reading the blog post.
If you want my team to just do your online dating for you, click here.
Facebook Dating vs Tinder: Which App Is Better For You?
Thinking about giving Facebook Dating a try, or is Tinder your better bet?
Check out how they compare in these key areas
See which dating app is better for you in this Facebook Dating vs Tinder comparison guide!
Facebook Dating VS Tinder: Cost
Facebook Dating, at least for the moment, doesn't cost anything to use.
It's also ad-free, which is fairly unusual for a totally free dating app - but only time will tell how long that lasts.
Around the same time Facebook Dating was launched, the Facebook tagline changed from "It's free and always will be" to "It's quick and easy."
So it's entirely possible a fee-based version is on the horizon.
Facebook users can create a separate dating profile within Facebook, "like" up to 100 profiles daily, and exchange messages whenever a mutual "like" occurs.
Tinder's basic features are all free as well - swiping, matching, messaging… everything you need to meet local singles won't cost you a penny. You will, however, find yourself swiping through plenty of ads.
And like Facebook Dating, free users of Tinder can only swipe right a max of 100 profiles every 12 hours.
Unlike Facebook Dating, Tinder also offers three premium levels with features that can make meeting someone special even easier: Tinder Plus, Tinder Gold and Tinder Platinum.
Here is a quick run down of Tinder's premium features: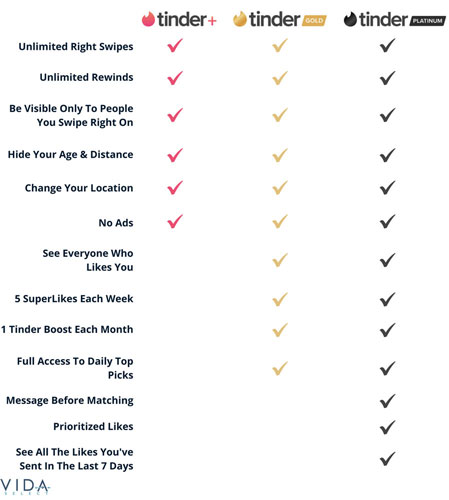 Upgrading Tinder costs anywhere from $7.99/month to $29.99/month, depending on which level you purchase.
Winner:
Draw, you can use either of these dating apps for free.
Facebook Dating VS Tinder: Features
Apart from the basics (browsing, liking/passing profiles, matching and messaging), both Facebook Dating and Tinder offer several useful free features.
For starters, you can link your Instagram to both profiles, but Tinder takes it one step further and lets you link Spotify as well.
Specially Curated Matches
And in addition to the traditional swiping, both dating apps will curate matches for you.
Facebook Dating has a "Suggested Matches" feed, while Tinder offers "Top Picks."
But on Tinder, free users can only "like" one of these "highly compatible" matches per day.
In terms of unique bells & whistles, Facebook Dating has a "Secret Crush" feature that lets you maintain a list of up to 9 Facebook friends or Instagram followers that you'd be interested in dating if you knew they felt the same way.
Once you've added your crush to the list, if that person is also on Facebook Dating, they'll learn that someone (not you, specifically) has a Secret Crush on them. If that person adds you as their Secret Crush, you'll instantly match.
Tinder, on the other hand, is a lot more straightforward. If you're crushing on someone, you can "Super Like" them.
When that person comes across your profile in their match feed, they'll see a Super Like notification. If you end up matching, you'll see a blue star next to their name in your message view.
Free users get one Super Like per day, while premium users get 5.
On a related note, Tinder also has a feature that pops up randomly in your match feed called "Super Likeable."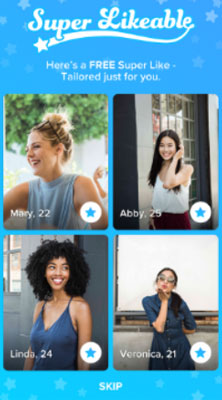 This is a special card that contains 4 profiles Tinder's algorithm has pulled because they match your swiping patterns.
When you "like" one of the 4, that person will get a "Super Like" notification. But don't worry, it doesn't count as your free daily one.
Other free Tinder features include:
Winner:
Tinder offers more free and premium features than Facebook Dating.
Facebook Dating VS Tinder: Match Criteria
Both dating apps give you some control over who you're presented as a potential match:
On Facebook Dating, you can check out profiles in 3 different places:
"Likes You"
"Suggested For You"
"Groups/Events"
In the "Groups/Events" section, Facebook Dating presents profiles of singles who match your criteria and have joined the same groups or expressed interest in the same events that you did.
On Tinder, you can see who has already "liked" your profile, provided you're a Tinder Gold subscriber.
And the "Suggested For You" equivalent is your daily "Top Picks," but again you're limited to just one of those each day unless you upgrade.
Apart from Festival Mode, Tinder doesn't have an interest-specific matching function. But it will show you which Passion badges you have in common with a particular user: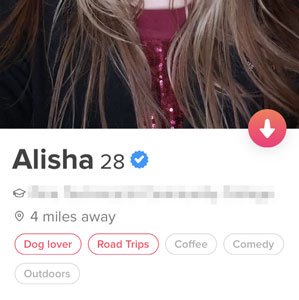 You can more carefully screen who shows up as a potential match on Facebook Dating, and that platform gives you more opportunity to match with people who share similar interests.
But Tinder still has sheer numbers on its side.
It's the top grossing dating app in the world. You'll have access to far more potential matches than you'll find on Facebook Dating, especially if you're in a large urban area where Tinder users are concentrated.
Winner:
Facebook Dating lets you screen your potential matches to a higher degree. But in a popularity contest Tinder wins hands down - because that means more potential matches for you.
Facebook Dating VS Tinder: Messaging
You can message freely once you've matched with someone on both dating apps.
But Facebook Dating has one advantage over Tinder.
Just like on Hinge, Facebook Dating lets you comment on a piece of content within a user's profile, meaning you can send a first message before they've "liked" you back.
Tinder Platinum users get 5 Super Likes every day, and can include a first message with each of them.
However, that privilege runs around $29.99 per month, depending on how much upgrading costs in your area.
Winner:
Facebook Dating, since you can include a message along with your like for free - a great way to increase the chances of matching! Try one of these proven Facebook Dating icebreakers right now!
Facebook Dating VS Tinder: Privacy Settings
Facebook Dating is a completely separate entity from Facebook, so your love life isn't on display for just anyone to stumble on. Only people who have opted in to the Dating service will see your Dating profile.
By default, your Facebook friends won't see your Dating profile, even if they're using the Dating platform themselves. Nor will anyone that you've blocked.
You can also control whether or not your Dating profile is visible to friends of friends, and block specific people (i.e. your single boss) from being able to see you.
You can control your visibility via the Facebook Dating privacy settings: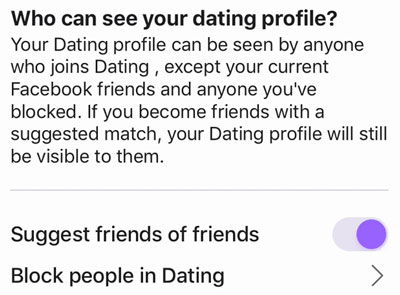 On Tinder, upgraded users have total control of who sees their profile by opting to be shown only to people you've already swiped right on. You can also block your matches from activating message read receipts.
You can also control what information from your profile is shared with your matches from the "Shared Content" menu in the Privacy Settings:
And Tinder Plus users can also hide their distance away from each match, as well as their age.
Winner:
Tinder. While you can proactively block people you know from seeing you on Facebook Dating,
Tinder gives you total control by limiting visibility only to people you actively "like." That means no one slips through the cracks if you forgot to put their name on your black list.
Verdict: If You Can Only Choose One…
…go with Tinder. It's far more popular than Facebook Dating. That makes Tinder the better bet for maximum match potential in the shortest amount of time.
But if you've got time to manage two dating apps, you might as well give Facebook Dating a try since it's free.
Not sure which dating app is best for you? Or maybe you're considering Facebook Dating because it's relatively new, and nothing else has worked so far…
If you're serious about meeting someone special, but you don't have time for dating apps or your existing strategy isn't resulting in dates with high-quality people, VIDA is here to help.
With everything.
A team of modern dating experts will handle every aspect for you, from profile creating and photo selection to compatible match selection and messaging. All that's left for you to do is go on incredible dates!
Click here to learn more.
Want us to do your online dating for you?

Hey, I'm Ally, VIDA Select's Director of Matchmaking.
We take all the frustration, hard work and hassle out of modern dating!
Imagine your very own Dream Team of highly skilled dating experts searching for the very best local matches, sparking their interest, and arranging all the dates for you.
Wouldn't it be nice to finally stop swiping and start dating higher quality matches so you can meet someone special?
We've helped thousands of singles just like you since 2009, and we're ready to make you our next success story!
What are you waiting for? Take the next step now…
See If You Qualify