I hope you enjoy reading the blog post.
If you want my team to just do your online dating for you, click here.
Tinder Vs Bumble… Which Is Better For You? [2023 Edition]
You want to meet the best local singles, so it makes sense to start with the two apps that attract them in droves. But if you're just looking at Bumble vs Tinder, which dating app is the better option?
VIDA Select's team has been representing clients on dating sites and apps since 2009. We've logged countless hours on Tinder and Bumble since the apps launched, giving us expert insights into how the apps work and what strategies lead to success.
You're about to benefit from our years of experience, because in this short post we've summed up the benefits and drawbacks of each app, so that you can choose the platform that best suits your dating goals.
Tinder Vs Bumble Table of Contents
Tinder Vs Bumble Facts At A Glance
Check out these side-by-side comparisons and choose a winner in the Bumble vs Tinder debate!
Male To Female Ratio:
On Tinder, men outnumber women 2:1.
On Bumble, the gender ratio is about equal.
Casual (1) to Serious (10) Rating:
Tinder is a 3. There are plenty of committed couples who have met on Tinder, and The Knot even deemed it the best dating app for marriage. But it still has a far more casual vibe than Bumble, and you'll find plenty of singles who aren't looking for anything serious.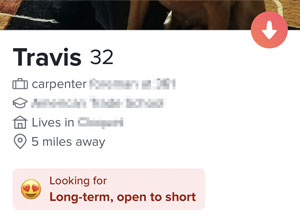 Tinder's "relationship goals" feature lets you display on your profile exactly what you're on Tinder hoping to find. That helps you attract like-minded singles on the app. The 6 options range from long-term partner to still figuring it out.
Bumble is 5. It was created by Whitney Wolfe Herd to be the "female friendly" Tinder, and the Bumble app attracts women who are serious about finding quality matches and starting a long-term relationship. But that's just the Bumble dating mode. Bumble BFF is the "just friends" mode if that's what you're looking for instead, or you can use Bumble Bizz for networking.
Like Tinder, Bumble allows users to add a relationship goals badge to their profiles. Bumble users can choose from 4 options: Relationship, Something Casual, Don't Know Yet, and Marriage.
Who Uses It:
Tinder's biggest demographic is singles under 25, and 60% of users are under 35. That being said, you'll you'll find singles of all ages on it.
Bumble is also most popular with singles in their 20s and mid 30s, with 72% of users under 35. But as the second most popular dating app in the US (with Tinder in the lead at #1), it's still worth downloading to see who's using it around you even if you're older than 35.
Cost:
You can use both of these popular online dating apps for free, and both offer premium subscriptions tiers that unlock extra perks.
On both apps the pricing may vary by location. Investing in multiple months at once brings the per-month cost down.
What You Get When You Upgrade Tinder
Tinder offers 3 premium memberships:
Depending on which level you choose, handy premium perks include:
What You Get When You Upgrade Bumble
Bumble offers 2 premium memberships:
Depending on which level you choose, handy premium perks include:
Biggest Plus:
Tinder: It's the most popular dating app in the US.
Bumble: 60% of all matches result in a conversation (according to the app's founders).
Biggest Minus:
Tinder: 76% of users live in large urban areas. So if you're not within "dating distance" of a large city, it might not be a good fit for you.
Bumble: Men can't start a conversation on this online dating app, with one exception that you'll read about coming up. If you're a guy who's used to sending the first message, Bumble will be quite an adjustment.
Other Considerations:
Both of these popular apps are also available as dating sites, meaning you can hop on from any device, including your laptop. Tinder Online even has a handy "work mode" you use if you're interrupted by a coworker while swiping at work.
They also both allow you to link social media to your dating profile, specifically Instagram and Spotify. That's a great way to add even more depth to your Tinder & Bumble profile.
While there are exceptions to every rule, knowing what you're looking for can help answer the Bumble vs. Tinder question. For instance, if you're in the market for a short-term fling or casual dating, Tinder is basically everyone's favorite app for that.
Tinder Vs Bumble: Quality Over Quantity
The win goes to Bumble.
Bumble is better than Tinder if you're looking for a serious relationship.
The matches are of higher quality overall, and many of the women you'll find on the app are "meet-the-parents-ready" marriage material.
Bumble was started by one of Tinder's founders who wanted to create a more "women-friendly" app. Women aren't being bombarded with unwanted messages, so the app tends to attract women who are looking for something more serious.
Tinder Vs Bumble: Dating Pool
Tinder wins hands down.
Tinder is better than Bumble if you're only looking at the sheer number of potential matches.
Part of the Match Group portfolio, Tinder is more popular than Bumble. You've got the potential to meet more women, particularly if you're in a more rural area where Bumble users are few and far between.
And upgrading to TinderPlus gives you the ability to manually change your location so you can swipe on and match with all those pretty city girls.
But guys outnumber gals on Tinder 2:1, so you've got competition for the most attractive women in your area. These icebreaker messages will have perfect "10s" responding in no time flat.
Tinder is also better than Bumble if you're more on the "hookups" end of the relationship spectrum. While you'll find women looking for everything from one-night stands to long-term relationships, it's likely easier to find the former on Tinder than Bumble.
Tinder Vs Bumble: Starting The Conversation
If you're looking for someone else to start the conversation, stick with Bumble.
On Bumble, only women can send the first message (with the exception of sending a Compliment to a potential match). You have to sit back and wait for her to come to you. So if you've ever been told you qualify for man-dime status, Bumble is the way to go.
But if you rely on your chat game to win her over with a witty message, stick with Tinder.
Tinder Vs. Bumble: The Experts Weigh In
Our vote is for Tinder. Out of all the apps out there, we get the best results for our clients on Tinder. (We can do it for you, too - click here to find out how).
Want us to do your online dating for you?

Hey, I'm Ally, VIDA Select's Director of Matchmaking.
We take all the frustration, hard work and hassle out of modern dating!
Imagine your very own Dream Team of highly skilled dating experts searching for the very best local matches, sparking their interest, and arranging all the dates for you.
Wouldn't it be nice to finally stop swiping and start dating higher quality matches so you can meet someone special?
We've helped thousands of singles just like you since 2009, and we're ready to make you our next success story!
What are you waiting for? Take the next step now…
See If You Qualify