I hope you enjoy reading the blog post.
If you want to chat now about your matchmaking search, click here.
Ultimate Guide To The Best Bay Area Matchmakers [2023]
Not sure which professional matchmaking service is the right investment for you? This ultimate guide to the 8 best Bay Area matchmakers is the perfect place to start your research.
We've spent countless hours researching and analyzing more than 200 matchmaking services, delving deep into their processes, success rates, cost, and client experiences. Our expertise and first-hand experience comes from 14+ years in the industry. We understand what clients value in a matchmaking service!
From how much each matchmaking service costs to 5 essential questions you absolutely need to ask before committing to a contract, this guide has the details you need to help make an informed decision.
A revolutionary matchmaking service for discerning singles seeking meaningful connections, Enamour's elite team harnesses the power of AI, cutting-edge recruiting technology, and expert relationship psychology to identify your perfect match with precision.
Clientele
Enamour caters to highly selective, accomplished singles seeking a more tailored matchmaking experience.
Cost
Matchmaking services start at $20,000.
What To Expect
Enamour takes a dual-pronged approach to finding your ideal partner. Your dedicated matchmaker starts by meticulously analyzing your preferences, desired qualities, and specific criteria.
She then hand selects compatible potential matches from Enamour's curated, invite only database. Each candidate undergoes a rigorous interview process before being presented for your consideration.
The Enamour team also uses proprietary technology to scout beyond the database, identifying highly compatible, desirable candidates to further screen.
Following each date, your matchmaker gathers invaluable feedback, refining your search and offering deeper insights into the dating journey.
Additional Services
Dating & relationship coaching, personal styling, professional photography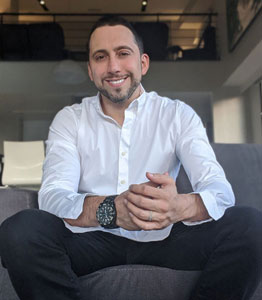 Want to work with an elite matchmaking service that's so confident in their ability to find your ideal partner, they don't require a long-term contract?
Founded in 2009, VIDA Select is one of the only elite matchmaking services out there with a "pay as you go" pricing structure. So instead of paying up front, in full, for a 3- to 12-month contract, if you feel like the service isn't the right fit for you, you can stop at any time.
In fact, the typical VIDA Select client only needs a few months of service before meeting someone special!
Clientele
Successful professionals from all backgrounds, typically 30s to 60s, who want to find "The One."
Cost
VIDA Select offers a spectrum of monthly matchmaking packages within 3 levels of service. Packages are designed to highly reflect the total number of hours which should be dedicated to the search for quality matches, taking into account factors including your search radius and the complexity of your matching criteria.
Basic packages start at $1095/month, Premium options begin at $1695/month and Elite packages start at just $2595/month.
What To Expect From This Bay Area Matchmaker
Like traditional matchmakers, you'll be meeting high-quality singles carefully selected by your matchmaking team to fit every quality on your "wish list." The latest tech allows access to the Bay Area's largest source of eligible singles, and you can review a full profile and photo of each potential match!
Each matchmaking package includes an unlimited number of matches, so you can go on as many dates as your schedule allows - and walk into each one knowing you're about to introduce yourself to someone incredible.
Additional Services
Dating coaching, professional styling, image consulting
Amy Andersen's elite dating agency is especially popular with men and women working in the high tech industry, which makes sense given it's headquartered in Menlo Park.
Launched in 2003, Linx Dating offers its services to singles living all around the Bay Area, as well as in LA. They also work with a network of international matchmakers across Europe, Asia and the Middle East.
Clientele
Primarily tech execs, but you'll find professionals from other industries on her client roster as well.
Cost
$45,000 - $500,000+
What To Expect From This Bay Area Matchmaker
Potential Linx clients can choose from 3 matchmaking packages, all of which come with a 2-year contract. You'll also have a total of 4 months of "hold" time that can be utilized if/when needed.
Linx Dating costs depend on how many matches you'd like over the course of those 2 years, which is typically somewhere between 8 and 10.
But if you'd like your Linx matchmaker to scout for singles who aren't from their internal database of around 850 singles, that's considered a VIP service - and starts around $100,000.
There is also a membership option only available for "highly matchable" men under the age of 31. You're eligible to attend Linx single's events, and your profile will be considered for potential matching with paying clients - no guaranteed matches, though.
Pricing varies per client because memberships are customized. To find out more, you'll need to purchase a 90-minute initial consultation for a few hundred dollars. You can initiate that process by applying through the Linx website - this Bay Area matchmaking service doesn't take incoming calls from potential clients.
Further Reading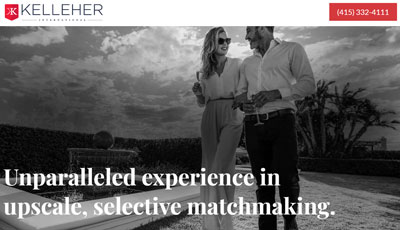 As implied by the name, Kelleher International has matchmaking teams scattered throughout the US and abroad - but the headquarters are local to the Bay Area.
Jill Kelleher launched her elite matchmaking service more than 30 years ago, and was later joined by her daughter Amber Kelleher-Andrews.
Clientele
A true boutique service, not just anyone is accepted. While the Kellehers perform searches for both men and women, they only take on "accomplished" singles.
Cost
$30,000 - $300,000+
What To Expect From This Bay Area Matchmaker
The cost of your Kelleher International membership largely depends on what sort of search you want. Sticking with Bay Area singles in the least expensive option, starting at $30,000. If you want to meet singles from multiple US cities, or other large cities around the world, the price increases accordingly.
Clients are matched with singles from their internal database of around 50,000 people. Your contract lasts anywhere from 1 to 3 years, and you'll also get an additional 12 months of "hold" time you can use as necessary.
Whenever your Kelleher matchmaker finds a promising match, you'll get a description - as will the other person. If there's interest on both sides, you'll have the opportunity to contact them to make the date.
The Bevy (by Greta Tufvesson & Nikki Lewis)
The Bevy is known for exclusivity - in lieu of advertising they tend to rely on referrals. The San Francisco and San Diego locations are newer offices, with the original headquarters in Los Angeles and New York. The Bevy was founded in 2014.
Clientele
The Bevy clients range from mid 20s to 60s, generally career-focused men looking for their ideal partner.
Cost
$25,000+
What To Expect From This Bay Area Matchmaker
Women can participate in a screening process to include a profile in The Bevy's database of potential matches, which is free.
Men purchase a matchmaking membership, the price of which varies according to what you'd like included. Number of matches, location, etc. can all affect the final price tag.
In addition to traditional matchmaking, Bevy clients can also attend member's only events and purchase additional services such as diet/fitness/nutrition consulting.
Paying clients are introduced to women from The Bevy's database or that your matchmaker has scouted and approached on your behalf, if you purchased a higher level membership.
Further Reading
Three Day Rule is actually a national matchmaking agency, with offices all over the US. The branch dedicated to Bay Area singles opened in 2014.
Founder Talia Goldstein has a background in communications, and previously had a stint as a TV producer at E! True Hollywood Story. TDR is named after that famous line from "The Swingers" regarding how many days someone should wait before calling after a date.
Clientele
Three Day Rule accepts both men and women as paying clients, typically ranging in age from their 20s to 60s.
Cost
$5,900 - $18,500+
What To Expect From This Bay Area Matchmaker
There is a free option - you can submit an application via the Three Day Rule website to have your profile considered as a possible match for paying clients. However, if you don't want to wait and see if you ever fit a paying client's "ideal match" description, you'll need a paid membership.
There's a 3-month contract which includes a minimum of 3 guaranteed matches for $5,900. Or for $9,500, you will meet at least 6 matches during a 6-month contract period. VIP matchmaking services start at $18,500 for 6 months.
During your membership period, you'll meet other paying clients or Bay Area singles from the database who aren't paying for the service.
Talia Goldstein also received backing from IAC, the company that owns dating sites like Match.com. TDR has a partnership with Match, Christian Mingle, OkCupid and JDate and recruits compatible singles for TDR clients from those dating sites as well.
No matter where your match is located, you'll get to review a profile. If you think you'd like to meet them, and vice versa, contact details are provided and you arrange the introduction details.
Further Reading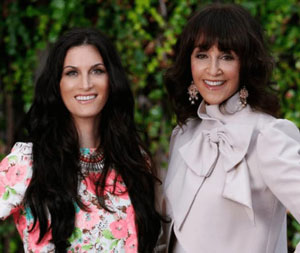 As with the Kellehers, Serious Matchmaking is a family-run dating agency founded by Janis Spindel in 1993. Her daughter, Carly, came on board in 2009 as a VP.
Serious Matchmaking is a NYC-based dating agency, with teams located around the country - including the Bay Area.
Clientele
Career-focused, marriage-minded men.
Cost
$25,000 - $1,000,000
Serious Matchmaking has both a signing fee and a finder's fee. They vary per client, and once established the rate is the same for both.
The fees start at $65,000, with the finder's fee being due if you end up in a successful relationship with one of your matches. That includes getting engaged, moving in together, or dating for 12 months.
What To Expect From This Bay Area Matchmaker
One of the most well-known of the millionaire matchmakers, working with Janis Spindel can literally cost you a million dollars.
Whether you work with Carly or Janis Spindel, contracts all last a year and include 12 matches - as required by New York law.
Men join as paying clients, whereas women pay around $250 to $1250 for the chance to meet one of them, provided they can pass the screening process required to have a profile in the database.
Further Reading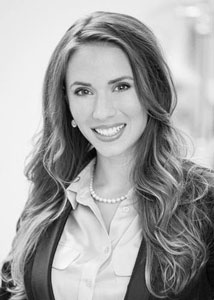 April Davis's dating agency is Minnesota-based, but has 7 locations around California - including the San Francisco office at 995 Market Street. It was originally launched as "Cupid's Cronies" back in 2010, but later rebranded.
Clientele
Like many matchmaking services, LUMA caters to busy executives seeking marriage or long-term relationships.
Cost
$5,000 - $10,000+
What To Expect From This Bay Area Matchmaker
As a potential LUMA client, you can join in two ways - pay for dedicated matchmaking services, or submit your profile to the LUMA database at no charge. However, the free option carries the risk of never meeting anyone through the service, as you'll only be contacted in the event you fit a paying client's wish list.
To purchase a membership, you'll have an in-person interview with the matchmaker you're paired with. Each LUMA matchmaker typically has 20 or so clients at any particular time.
You'll have dates arranged with Bay Area singles from the LUMA database, and if you'd like to continue seeing each other it's up to you to exchange your contact details.
Further Reading
Bonus Pro Tip: Know The Right Questions To Ask!
You're likely no stranger to outsourcing various aspects of your life, whether it's financial planning, landscaping or remodeling. And you probably asked a bunch of questions before you made your hiring decision, right?
A matchmaking service is no different! Here are 5 basic questions to start with: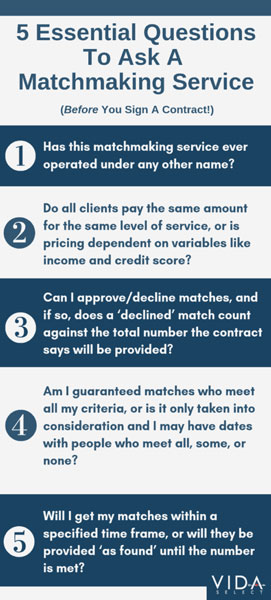 Decide ahead of each initial consultation with the matchmaker what answers are in your comfort zone, and that will help ensure you're making a decision you'll be happy with.
Matchmaking services that rely on contracts generally don't provide refunds under many (if any) circumstances, so a little due diligence up front can prevent frustration later!
All product and company names are trademarks™ or registered® trademarks of their respective holders. Use of them does not imply any affiliation with or endorsement by them.
Why Choose VIDA Select?

Since 2009, thousands of clients have discovered true love thanks to VIDA Select's fresh, modern approach to matchmaking – which has finally thrown blind dates and long-term contracts out the window. This isn't your grandmother's matchmaking!
Instead of working with a single matchmaker using a small rolodex of potential partners, VIDA Select's matchmaking team taps into the world's largest database of available singles. We'll quickly identify the matches who check all of your boxes so you can finally experience true chemistry. Are you ready to become our next success story? Schedule your complimentary consultation now by clicking the button below!
Get Started Now