I hope you enjoy reading the blog post.
If you want to chat now about your matchmaking search, click here.
Boston Dating Services [Meet More Boston Singles In 2023!]
Boston is a great city to be single in - it was ranked #2 in the US by Apartment List. You'll also find plenty of Boston dating services promising to help you meet that special someone.
But with so many different approaches to meeting new people, figuring out which ways will work best for you can be tough.
That's why our team of matchmaking experts has created this comprehensive guide to help singles in Boston find the best matchmaker. With our experience in the industry dating back to 2009, we're well acquainted with the major players and the small boutiques.
We've written over 200 reviews of matchmaking services, leveraging our in-depth industry knowledge and our deep understanding of what clients value most.
This guide to Boston dating services breaks down all your options and what they cost, so you can decide what's right for you!
Let's dive in with…
Boston Matchmaking Services
Matchmaking is a highly personalized service where clients work directly with a personal matchmaker to meet compatible, pre-screened Boston singles.
You have plenty of Boston matchmakers to choose from, all with the same end goal: connecting you with your ideal partner. But how they go about finding potential matches can vary quite a bit.
For instance, some dating services just match clients with other clients, so the matchmaker is working from a limited database.
The advantage to that approach is it's generally less expensive compared to matchmaking services that cast a wider net and proactively search for compatible singles.
But a small database is also a huge disadvantage, because making quality matches from within a limited pool is very difficult to do. That's because what you're looking for in a partner is only half of the equation.
For a pairing to be successful, compatibility has to flow both ways. Your match also has to be looking for someone just like you.
Making consistently high-quality matches requires an extensive dating pool, and many Boston matchmakers simply don't have the numbers they need to do that.
That's why one of the most common complaints you'll read in matchmaker reviews is meeting incompatible people. In order to make any matches happen, the dating service had to pair who they had available, not who was a good fit.
High-end matchmaking services like Serious Matchmaking and Kelleher International offer to go beyond their databases on the quest for your perfect partner. They'll even search the world! That level of service usually comes with a hefty price tag...
But not always!
Some matchmaking services, like Enamour and VIDA Select, use recruitment technology and a modern approach that greatly expands their Boston dating pool - without charging a premium price.
Enamour
Enamour's database is invite-only, so it's one of the best options if you don't want to compromise on match quality. Enamour packages start around $20,000.
Enamour's matchmaking team has been helping singles meet highly compatible matches since 2009. They use AI, data science and human intuition combined with recruiting tech to identify perfect match candidates for you to meet.
The search doesn't just include the exclusive database; every membership package also includes a proactive search that leaves no stone unturned.
VIDA Select
VIDA Select offers one advantage you won't find many other dating services offering: the ability to pay as you go. VIDA clients pay month to month, with the cost of each matchmaking package largely determined by the number of hours that should be devoted to your search.
Basic matchmaking services start at $1095, Premium packages begin at $1695 and Elite options start at $2595.
Other services offer luxury matchmaking with a price tag to match.
Serious Matchmaking
Serious Matchmaking packages start at $25,000 and run up to $1,000,000 (not including the signing or the success fees, which start around $65,000). Service contracts typically last for 1 year.
Prices vary depending on whether you want to work with founder Janis Spindel, her daughter Carly, or both of them. And the scope of your search factors in as well. The matchmaking duo is headquartered in NYC, but they have a presence in Boston as well.
Kelleher International
Hiring a Kelleher matchmaker starts at $30,000 and can go over $300,000, with the contract spanning a year or two.
Kelleher offers searches based on location, on a local, national or international level. The broader the scope, the higher the price. Like Serious Matchmaking, Kelleher isn't based in Boston. Their home base is on the West Coast, but they have a presence in a handful of large cities around the US, including Boston
Other dating services, like Three Day Rule and Tawkify, set their costs according to how many matches you can expect to meet.
Three Day Rule
A national matchmaking service headquartered in Los Angeles, Three Day Rule also has an office in Boston.
Three Day Rule's prices start at $5,900 for at least 3 matches, with VIP services starting at $18,500.
Anyone can apply to join their database of eligible singles for free, and Three Day Rule matchmakers scout at local events for people to include. However a free database membership doesn't come with any proactive matchmaking service. Paying clients are matched with free members who match their search requirements.
Tawkify
Like Three Day Rule, Tawkify is a national matchmaking service operating in over 30 major cities around the US. There are two ways to join: as a member or a client.
Joining as a member costs $99 a year, and it only includes having your profile placed in the Tawkify database. You may never meet any Boston singles that way, since no proactive searching is done on your behalf. You'll only be contacted if you happen to be a compatible match for a client.
As client, you can purchase a regular or a VIP matchmaking package. VIP matchmaking includes a search outside of the database, otherwise you'll be matched with database members.
With Tawkify, matchmaking service starts around $3,000 and can run over $70,000.
To learn even more about what you can expect to pay for matchmaking in Boston, check out this handy Boston matchmaker cost comparison!
Boston Singles Groups & Event Services
Some dating services organize events for Boston singles, which can be a fun, low-key way to meet new people.
For instance, Events And Adventures is a national dating service that has a chapter in Boston.
Events & Adventures
It's a members-only social club, meaning you'll have to apply and pay a membership fee. There is also a monthly fee that's typically around $100-$200 per month.
Many Boston singles events are free, others you'll have to pay for. Because it's a national company, you can meet people outside of Boston as well. They host singles cruises, adventure vacations, and more. To learn more, check out this Events & Adventures review.
Speed Dating
Seeing a resurgence in Boston as well as across the US, speed dating is a fun way to meet new people.
If you're interested in giving it a try, a national dating service called MyCheekyDate plans frequent speed dating events in Boston, as well as cities throughout the US. You'll often see them advertised locally as Speed Boston Dating.
Events are both virtual and in-person, and you'll need to purchase a ticket in advance. Costs generally range from $20 to $70, depending on the event and whether or not drinks are included. You can see their events here.
If meeting 10 or so singles in the space of an hour or two sounds like a great idea, check out this guide to speed dating in Boston!
Or maybe speed dating isn't your thing. Don't worry, there are plenty of other singles events going on in Boston. The best place to find them is on websites like Meetup.com and eventbrite.com. Just use the search bar to focus on Boston opportunities.
And if you want more ideas on how to meet new people without having to swipe on a dating app, check out these alternatives to online dating in Boston.
Speaking of swiping… let's check out the best online dating services in Boston.
Boston Dating Sites & Apps
Considered a cosmopolitan college town, Boston is home to many intelligent people who studied at prestigious colleges such as MIT, Harvard, and Boston University.
So if you're looking for accomplished, successful matches, exclusive dating apps like The League, Raya and Lox Club are the best place to start.
Exclusive Dating Apps In Boston
These dating apps don't let just anyone create a profile...
The League
One of the most well-known "exclusive" dating apps, The League was founded in 2014 by Amanda Bradford. Match Group acquired it in 2022. It's available in select cities around the world, including Boston.
The League was one of the first dating apps to introduce the "wait list" - meaning potential members apply, then wait while their profiles are vetted by an acceptance committee.
What traits grant admittance? Think along the lines of intelligence and ambition. For more info on The League's waitlist, plus expert tips on how to get off it, read this next.
In this case, exclusivity comes at a price: The League memberships start around $400 for a 3-month membership.
Raya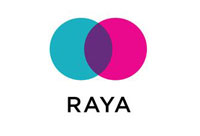 Raya is another ultra-exclusive dating app - but it doesn't have the same price tag. Raya caters to high profile (think Instagram famous) singles who value their privacy.
It only costs $10 per month, but the trick is getting in. Like The League, membership is not a given. Your application will be evaluated, and a big part of acceptance is the size of your Instagram following.
Raya is designed for creative professionals, so it has attracted actors, models, and the like. For that reason, screenshots are strictly prohibited. For more info, check out this Raya review.
Lox Club
Up next in our rundown of exclusive Boston dating apps: The Lox Club. It's a dating app for Jewish singles, or people who would like to meet them. Lox Club is currently available in just a handful of cities, but Boston happens to be one of them.
Considered a "private" dating app like The League and Raya, not everyone gets in. Hopeful members have to pass an application process, which according to founder Austin Kevitch weeds out 80% of applicants.
If you're one of the 20% who do get in, Lox Club costs $36 for a 3-month subscription, $60 for 9 months and $96 for a year. For expert tips on passing The Lox Club application, check out our Lox Club review.
One thing to consider if you do try one of these exclusive dating apps - they don't have the same large user base as the more popular mainstream ones. You may get quality matches, but it could take awhile.
Mainstream Dating Apps
Half of Boston's residents are single, and the odds are high they're on at least one dating app. Who isn't these days? It's the most common way couples form now.
Much like the size of a matchmaker's rolodex is an important factor, so is the popularity of a dating app. The more users it has in Boston, the higher the odds of making quality connections.
Bumble, Hinge, Match and Tinder are all excellent choices, depending on your age and what type of relationship you're looking for.
Tinder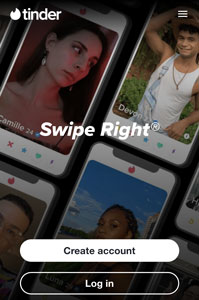 According to Tinder, more than half of its users are under 26. And the majority - 76% - are "looking for someone who knows what they want" in terms of a relationship, prompting Tinder to launch the Relationship Goals feature in late 2022. Options include everything from long-term to 'still figuring it out'.
You can use Tinder for free, or upgrade to one of the 3 premium membership levels: Tinder Plus, Tinder Gold or Tinder Platinum. 
Depending on which level you choose, you can unlock features like Passport if you're looking for singles outside of Boston and Priority Likes to get your profile seen faster.
This handy guide to upgrading Tinder compares cost and features for all 3 levels!
Bumble
Another good bet in Boston, Bumble is second only to Tinder in terms of overall popularity. While Bumble hasn't released specific figures, many sources speculate the ratio of male to female users on Bumble is much closer to 50/50 than it is on Tinder.
Bumble has specifically set out to create a more user-friendly experience for women, which is the reason only women can send the first message once a match forms.
The exception is using the Compliments feature, which lets men send a message before they match with someone. But that's a once-per-day scenario, unless you buy more.
Bumble also imposes a timeline: once a match is formed, the first message must be sent within 24 hours. A response also must be sent within 24 hours of receiving that message. If either deadline is missed, the match dissolves.
According to Statista, the majority of Bumble uses are under 45, but like Tinder you'll find Boston singles of all ages. Bumble attracts singles looking for relationships on the more serious end of the spectrum, so if you're looking for strictly casual stick with Tinder.
Bumble offers three modes: Date, Bizz and BFF. All three can be used for free, and users also have the option of upgrading to Bumble Boost or Bumble Premium.
Upgrading unlocks features like Travel Mode, which allows you to swipe on singles outside of Boston. Incognito Mode is another perk you may be interested in if you want to only reveal your profile to people you swipe right on.
Use this handy guide to upgrading Bumble to compare cost and features!
And if you want a break from swiping, Bumble also hosts periodic IRL singles events in the Boston area for members.
Some events are free while others require an entrance fee. Most require you to RSVP by purchasing a ticket. You can check out upcoming events and register on Bumble's IRL events page.
Hinge
Hinge's tagline says it all: it's the app designed to be deleted. If you're turning to dating apps to find a long-term relationship, Hinge is one of your best bets in Boston.
Millennials are Hinge's bread and butter, with the majority of users under 49. While it doesn't have the same numbers as Tinder and Bumble, it's one of the fastest growing apps in the US.
Hinge's format encourages conversation. When someone catches your eye, you can comment on a photo or a profile prompt, or answer a poll question. Hinge also lets you incorporate videos and voice prompts into your profile, which can be an effective way to express your personality.
Like Tinder and Bumble, Hinge can be used effectively for free. There is also a premium membership, with two levels available.
Hinge+ gives you unlimited likes, advanced options for sorting your matches, advanced screening filters and the ability to reveal who liked your profile all at once. HingeX includes all that, plus Skip The Line, priority likes and enhanced recommendations.
To discover all of Hinge's premium features and what they cost, check out our Hinge+ vs HingeX review!
Match
If you're over 35 and seeking a serious relationship, Match.com is one of the best dating sites to try. Unlike the other mainstream options on this list, Match requires a premium subscription to read and send unlimited messages.
Paid dating sites typically cut down on the number of fake profiles and people who aren't serious about meeting in person.
Match has several features that make finding compatible Boston singles easier, like Top Picks.
Match Top Picks are profiles presented to you because the algorithm has identified them as being highly compatible. Even free users can send a message to a Top Pick, and it's included with your "like".
Match.com also offers members periodic discounts to offline events for Boston singles. You can check out what's coming up on Match's events page, but you'll need to sign up to view them.
Ticket prices vary by event, and require you to register via the site. Many events are limited to members of a certain age group, for example a salsa dancing lesson for members who are 40 to 60.
The Easiest Way To Meet Boston Singles
Struggling to find quality dates in Boston? VIDA Select's modern matchmaking service could just be the perfect solution.
VIDA's expert team handles every aspect of your dating apps for you, from building your profile and identifying highly compatible potential matches to generating interest and setting up all the dates!
All product and company names are trademarks™ or registered® trademarks of their respective holders. Use of them does not imply any affiliation with or endorsement by them.
Why Choose VIDA Select?

Since 2009, thousands of clients have discovered true love thanks to VIDA Select's fresh, modern approach to matchmaking – which has finally thrown blind dates and long-term contracts out the window. This isn't your grandmother's matchmaking!
Instead of working with a single matchmaker using a small rolodex of potential partners, VIDA Select's matchmaking team taps into the world's largest database of available singles. We'll quickly identify the matches who check all of your boxes so you can finally experience true chemistry. Are you ready to become our next success story? Schedule your complimentary consultation now by clicking the button below!
Get Started Now